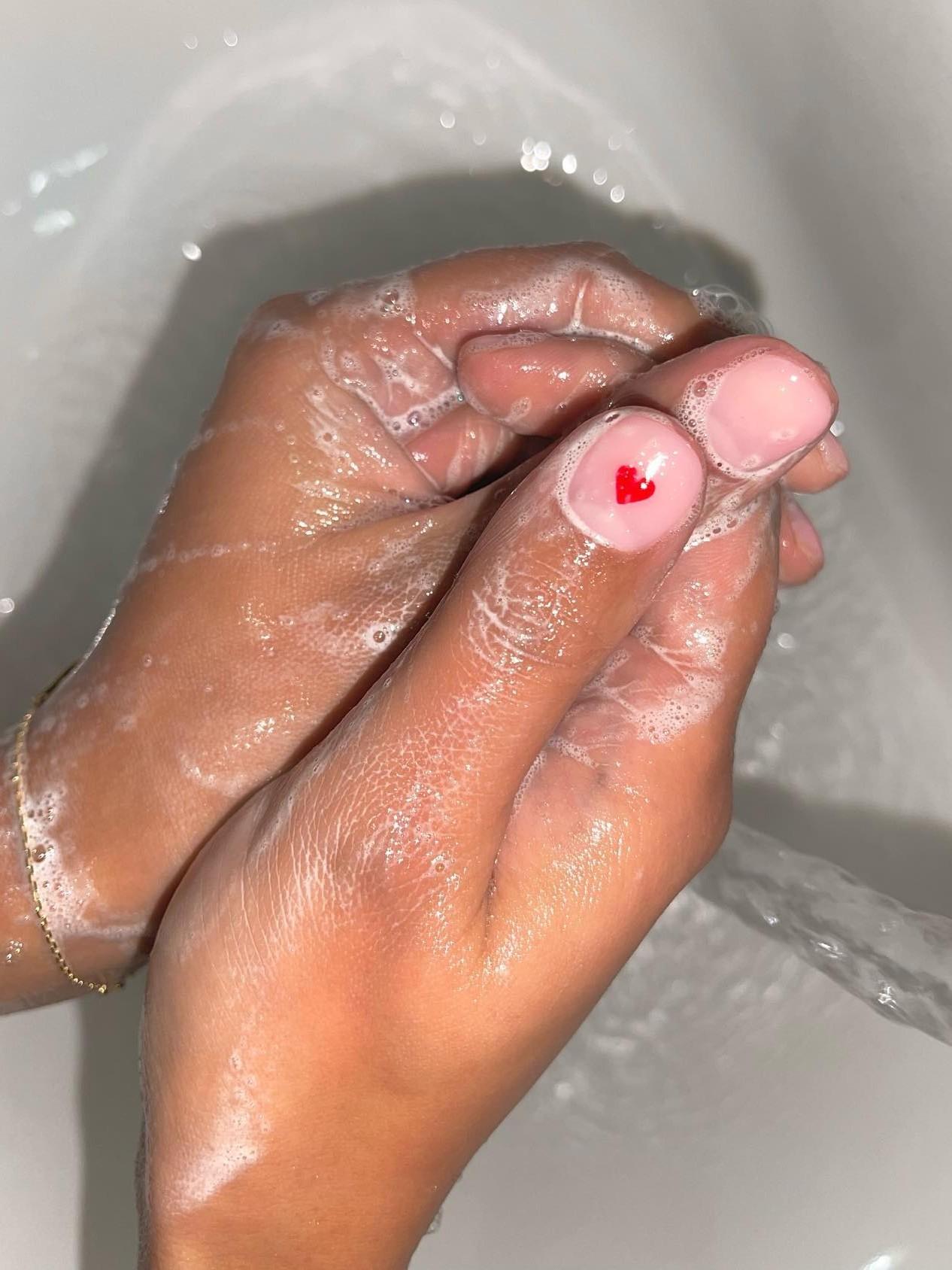 When it comes to essential products, there is perhaps no product more essential than hand soap. While we've all likely become intimately familiar with hand soap in the past few years, it has always been—and will always be—one of the universal staples in everyone's routine. 
Though there's nothing wrong with snagging the first hand soap you see at the drugstore (clean hands are the most important thing here), some hand soaps are superior to others. Consider how luxe it feels to go to someone's apartment and discover that they have fancy hand soap in their bathroom or how relieving it is to use a hand soap without hand cream after and not feel like your skin is tightening around your knuckles due to dryness. A good hand soap makes a difference. 
When choosing a hand soap, hydrating ingredients and gentle, effective formulas are key. "It is best to look for a hand soap that gently but effectively removes dirt, germs, and residue without stripping the skin of its natural moisture," says Marisa Garshick, MD, board-certified dermatologist. "It can help to use a product that also contains moisturizing and nourishing ingredients that help to leave the hands soft and smooth—even after washing—work to replenish moisture, and support the skin barrier." 
It's a cult favorite for a reason. With a fragrant mix of rosemary, mandarin, and cedar, this hand wash smells amazing without being polarizing, gently exfoliates, and leaves hands feeling squeaky clean but never stripped of moisture.  Pros: Smells good, refillable, exfoliating. Cons: Pricey. Customer review: "This is amazing. It has a rich, creamy lather. Smells incredible. Does not irritate the sensitive skin on my hands or dry them out."
This hand wash is formulated with 5% shea butter, making it super hydrating and non-stripping. It's super gentle and won't irritate skin.  Pros: Non-irritating, refillable. Cons: Not heavily fragranced. Customer review: "Long a favorite for gently keeping hands moisturized with shea. Your hands deserve special care, and this should do it."
Not to be weird, but when I use this hand soap, I can't stop smelling my hands. It has citrus, rose, magnolia, and linden blossom notes, and the combination is floral without being powdery. It's also gently exfoliating and makes your hands feel so soft after you use it.  Pros: Smells good, exfoliating, refillable. Cons: Pricey. Customer review: "I'm not one to spend $30 on hand soap, but now, I am. This is totally worth it. Gently exfoliating, too, which was a nice surprise. Amazing scent where it lingers lightly but not so much that it annoys you."
Formulated with chamomile extract, aloe, and vitamin E, this hand soap is both gentle and hydrating. It also works wonders against dirt and grime. If you use your hands a lot but want to avoid using a soap that dries them out, this one is perfect for you.  Pros: Refillable, nondrying. Cons: Some reviewers say the pump is difficult to open. Customer review: "I used Kiehl's grapefruit-scented products years ago, and I just rediscovered their hand soap. I love the way this soap smells, and it doesn't dry out my hands."
Yes, this is an investment hand wash, but it sure does elevate your sink to 5-star hotel levels. It comes in four fragrance (Vetyver, Rose, Suede and Tulipmania) that impart a luxurious scent to your hands. We're tempted to buy the matching hand creams too. Pros: Luxurious scent and formula. Cons: Expensive. Customer review: "I hosted a party and the number of people that asked me where to get this hand soap and hand cream combo from is insane! Amazing smell, unfortunately for my bank balance that's me converted now."
Not only does this hand soap work overtime to kill germs, but it's also formulated with Dove's Moisture Boost 5x Complex to ensure hands stay soft. Plus, at $4, it's tough to beat.  Pros: Antibacterial, cost-effective. Cons: Not strongly scented. Customer review: "I absolutely love this hand soap. I wash my hands 1000 times a day. My hands were getting so dry, so I started using the Dove antibacterial hand soap and it has made a huge difference. My hands are super soft and have no more dryness."
CostaBrazil manages to make this hand soap incredibly luxe even without its signature fragrance, which is quite a feat. It's enriched with vitamins and nutrients to leave hands feeling soft and not dried out at all.  Pros: Nourishing, moisturizing, fragrance-free for sensitive skin. Cons: Pricey. Customer review: "It foams very well. You need just a tiny amount and you're good to go, which tells me it's very high quality."
If you're grabbing a hand soap from Marks and Spencer, let it be Calm from the Apothecary rangem which is centred around aromatherapy notes to soothe. It's gentle, smells good, and lasts a long time.  Pros: Smells good, refillable. Cons: Can be slightly drying. Customer review: "The formula is nice and thick, it smells like a spa and the bottle is lovely too."
This hand soap smells good, lathers easily, and keeps hands nourished. The scent isn't too strong, making it the perfect soap to keep in your kitchen.  Pros: Smells good, lathers easily, refillable. Cons: Best paired with moisturizer. Customer review: "Love this scent and love that it only takes a little bit to work up a good lather. One of life's little extravagances."
This soap smells so good it's no surprise that it comes from a luxury fragrance house. Notes of lavender, rosemary floral water, and honey turn this into a truly sensorial experience. Plus, it comes in the most luxe bottle.  Pros: Smells good, refillable. Cons: Pricey. Customer review: "Have been trying many luxury hand soaps, and this is one of the best. Packaging is on another level with a sturdy glass container, which will look amazing wherever you put it. It's heavy, and the pump dispenser is great. The soap scent is hard to explain but very floral and complex. I can't pick a specific smell. You almost feel like you're in the Diptyque boutique. "
This soap looks chic, smells delicately citrussy, and will impress any houseguest who happens to use your bathroom with its skin-softening formula of lemon butter and sweet almond oil. It's also sulphate-free, making it gentle on sensitive skin. Pros: Smells good, moisturising. Cons: Refill not currently available. Customer review: "I love everything about this hand wash. Its scent, its creamy texture and its deep hydration."
Yes, this soap is expensive, but it smells amazing and will last you a really, really long time. And who doesn't appreciate a bar of Chanel soap by their sink? This soap leaves a subtle scent of Mademoiselle, which lingers long after washing your hands. Pros: Smells good, long-lasting. Cons: Pricey.
If you want a luxe hand soap that practically doubles as a perfume, this white floral-scented soap is your new best friend.  Pros: Smells great. Cons: Premium price-point. Customer review: "I absolutely love this soap!This is my third time purchasing it. The fragrance is divine and the quality is fantastic, so rich and luxurious. I also love the beautiful packaging that it comes in."
This article was originally published at an earlier date and has been updated.
Up Next, I Love Expensive Skincare, But Only When It Works—These 18 Brands Are Worth It