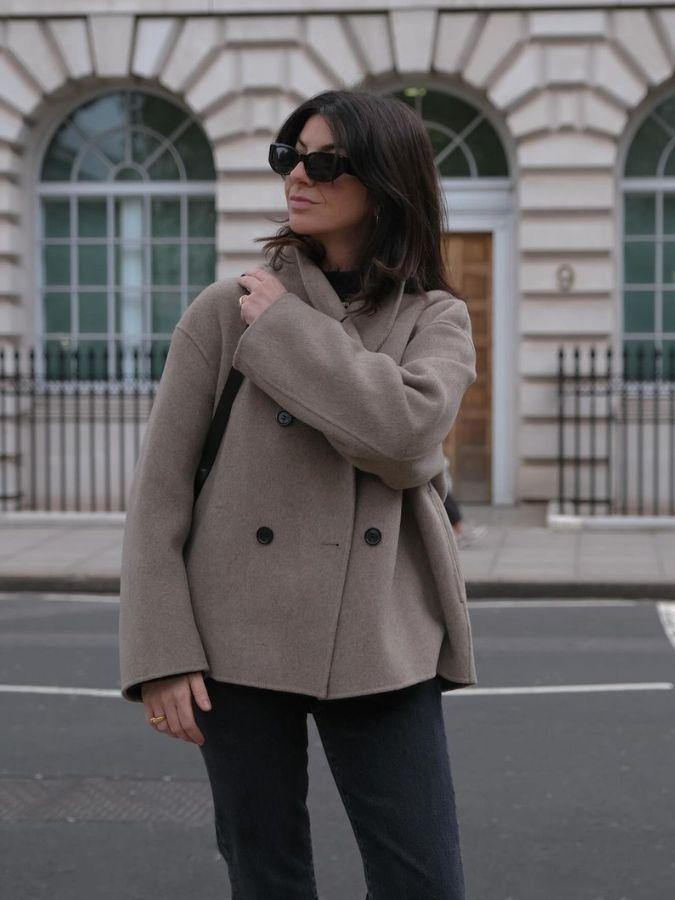 In my time as a fashion editor, I've come to appreciate different high street brands for their unique strengths. I'll always be drawn to Uniqlo for its perfect basics; I'll be dipping into COS if I'm in need of a knitwear restock; and I'll turn to Mango if my accessories arsenal requires a refresh. For outerwear however, I've not found any other brand that comes through as strong as my longtime favourite, ARKET. 
Throughout the seasons this high street hero continues to blend fresh, trending elements with a grounded and timeless designs, creating collections that stand up throughout the years. From their quilted jackets and leather styles, that see me through the spring and autumn months, to their sweeping coats in cosy wools and insulating down, I'm consistently coming back to this unsung hero when in need. 
@francescasaffari styles ARKET's Double-Face Wool Jacket, now £194. So, when I caught wind that ARKET we indulging us in a brief outwear sale, I couldn't keep the news to myself. If, like me, you're keen to shop some fresh styles before winter officially kicks in at -15 per cent off, read on to discover my edit of the best ARKET outerwear to buy right now.
The perfect black coat can be dressed up or down with ease.
It's not long until puffer jacket season. I've began to search for the perfect style, and so far this number has come out on top.
Wear with chunky boots and a wooly hat all winter long.
Before winter sets in, wrap up in a cosy wool-blend jacket.
I've been on the lookout for the perfect lightweight coat, and in this linen-cotton blend, I have finally found the one.
Throw on a chunky scarf and style with your favourite jeans for an easy weekend look.
Every wardrobe needs a reliable black coat, and this bouclé style has caught my eye.
Lined aviator jackets are a bubbling trend for this autumn/winter season.
Style with every shade of denim or a classic black trouser.
For a blustery British day, you can't do better than a classic quilted jacket.
I'm a long time fan of full-length coats, and I can't pass up on this sleek, structured style.
Brown is the season's favourite colour. Shop a classic quilted jacket in the perfect winter shade.
Leather trench coats are the new outerwear trend that celebrities can't get enough of.
Workwear jackets never go out of style.
If you're facing a British winter, you can't be without a sturdy windbreaker.
A wool-blend coat is a winter weather saviour.
Shop @francescasaffari's perfect wool jacket.
A great leather jacket will never let you down.
Style with wide leg jeans or a metallic mini all season long.
If you reside in the UK during winter, you'll be reaching for a raincoat more often than now. Shop a style you'll actually love to wear this season.
I've been looking for a cosy leather jacket this season, and I think this style might take the cake.
Up Next: The 11 Arket Buys Fashion People Can't Get Enough of Right Now