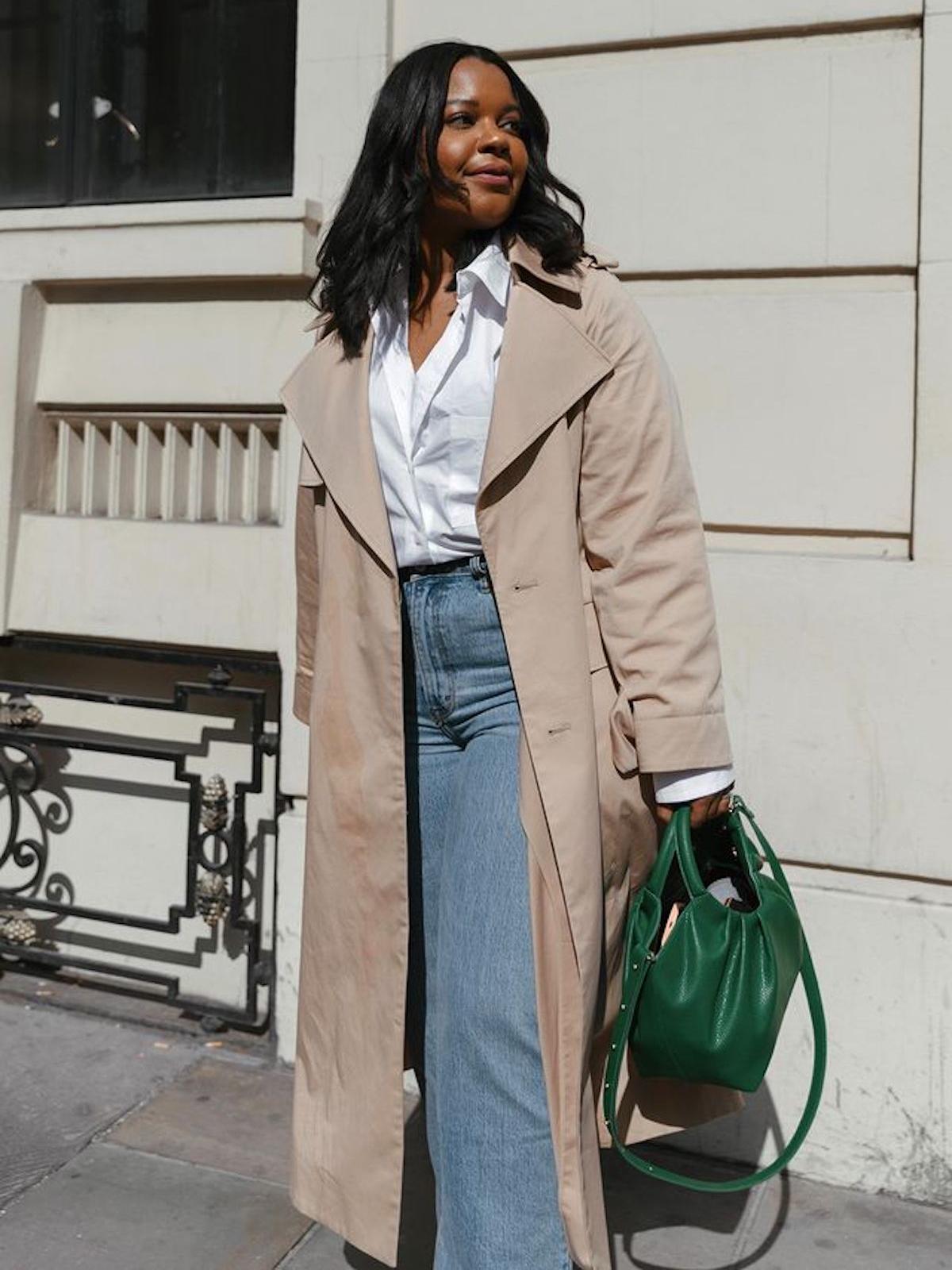 The UK is a wonderfully eclectic place, boasting a wide spectrum of personalities and tastes—sartorial and otherwise. It's one of my favourite things about living here. There's outfit inspiration to be found wherever I go. Even a quick bus journey can leave me frantically searching online for the vintage bag I spotted on a stranger or wondering if I could pull off a pair of printed flairs.
That being said, there are certain markers of British fashion that feel unique. And I'm not just talking about the impressive dossier of talented designers. The culmination of weather, history and the ever-changing zeitgeist has filtered out the items that just don't feel quite right in a British wardrobe, and a select few have emerged as non-negotiables. By that I mean pieces that make getting dressed for the climate and lifestyle easy; those that work together season after season to create an endless array of polished looks.
As someone who works in fashion, I spend an alarming amount of time analysing and deconstructing outfits I like. In doing so, I've identified the pieces that crop up time and again. If you're a Brit who's in the process of building a capsule wardrobe, or you're a curious non-Brit, scroll on to see the wear-with-everything staples that should be added to your wish list.
This one might be borrowed from our French neighbours, but British women have wholeheartedly embraced the Breton jumper—particularly the monochrome variety.
Style Notes: I love the idea of top-to-toe cream for autumn.
The kind of piece you'll invest in once and wear forever.
Each year, my knitwear wish list is 90% & Other Stories.
Simple and effortless.
The UK's weather is responsible for this necessity. Just because we have to put up with a year-round breeze and consistently cloudy skies doesn't mean we can't look good doing it.
Style Notes: A trench coat is a great year-round option.
Let this snug style envelop you on a cold winter's day.
So sophisticated.
Light enough for spring, layerable for autumn.
Be it loafers, combat boots or Derby shoes, when it comes to footwear, the chunkier the better. While Parisians typically reach for dainty pumps and heeled boots, Londoners love a thick sole and bulky silhouette. We're truly indebted to the original Dr. Martens.
Style Notes: The contrast between sheer tights and heavy shoes is incredibly chic.
I bought these for myself and can confirm they're even cooler in the flesh.
Nothing like a thick sole to say bring it on, British weather.
Chunky Mary Janes? I'm in.
Really, straight-leg jeans belong in capsule closets globally. No matter where you live and however you describe your personal style, this easy essential offers unparalleled versatility. 
Style Notes: Fuss-free and effortless. Aka, the perfect everyday outfit.
The kind of jeans that get better with every wear.
Just enough stretch to keep you comfy.
This pair comes in five chic washes.
The leather jacket has undergone a renaissance in recent years, with fashionable Brits trading in their biker silhouettes for blazer and boxy iterations. While the former is still a staple, this more refined take has proved immensely wearable with all kinds of outfits.
Style Notes: This elevated jacket can be worn casually on a day-to-day basis.
Like everything Arket creates, this is such high quality.
So damn chic.
Faux leather means so you don't have to miss out if you're vegan.
With sandals in the warmer months and boots when the chill hits, a printed dress is a foolproof all-in-one option. Make it a midi to defy the seasons, and slip it on when you want to feel put-together.
Style Notes: A printed dress can so easily be dressed up for the evening and office or down for the weekend.
Look at those sleeves!
Style it with heels for upscale events.
So chic.
Every capsule wardrobe should have a day-to-night option. For Brits, slinky maxi skirts have proved to be endlessly versatile. This simple staple looks just as good worn with an oversized knit and converse as it does with heels and a matching silk shirt.
Style Notes: When in doubt, stick to a monochrome pairing. Black, white and tan will always look good together.
Another expensive-looking buy from & Other Stories.
Choose a slit-leg style if you want to show some skin.
A little bit of lace adds something different.
Next Up: I've Created the Perfect Autumn Capsule, and It's Made Up of These 11 Pieces