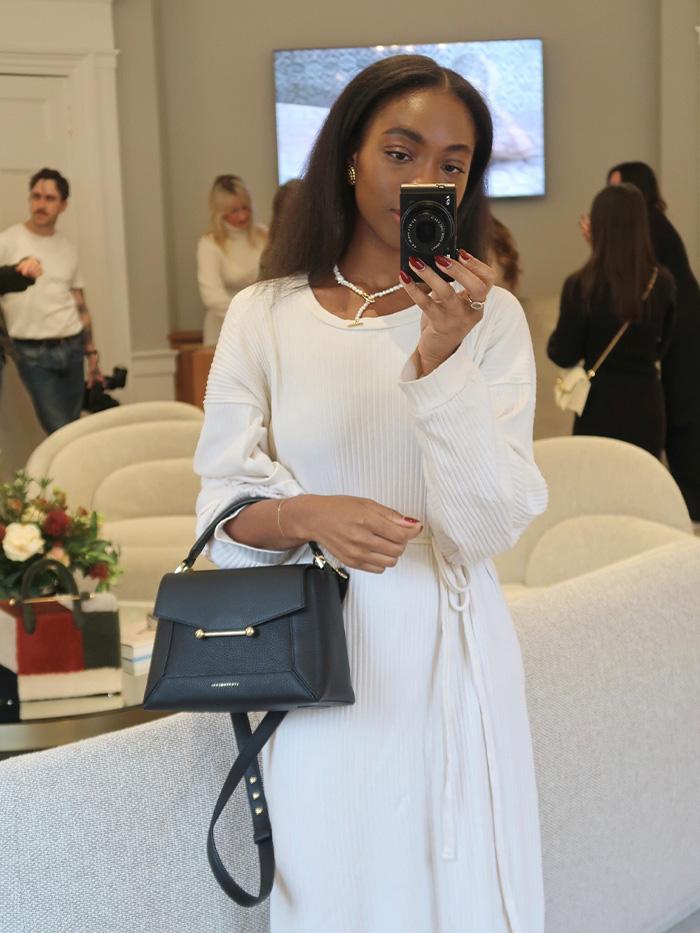 As 2023 almost draws to a close, I've entered the reflection phase (albeit a bit more prematurely but I can't help myself when Christmas is on the horizon!) One thing is for certain this season, I'm inspired. Perhaps I owe this to my move to Paris but I'm seeing winter fashion through a fresh lens when it was previously a dreaded season for fashion. You may have deduced that winter isn't typically my favourite season, but this year I'm leaning into the opportunity to experiment.
This winter, eveningwear is a new realm I'm dipping my toe into. I'm also drawn to impactful accessories and outerwear. Choosing a winter coat is no mean feat and gone are the summer days when the bones of an outfit demand attention. Now we're bundled in coats, so when deciphering which coat to purchase, there's a lot to consider  — from fabrication to style, wearability and colourway.
As someone who observes trends meticulously and ponders extensively (truly, sometimes for a year) about worthwhile pieces to invest in, I pay attention to the small details and this winters trends have not disappointed on that front. To my delight, subtly has been embraced by aspirational designers and followed on to the high street. Elements such as contrast stitching on accessories, tonal buttons and the weighty drop of a garment are all elements that make pieces feel more luxe. I've ascertained certain pieces that make me feel polished and smarter day-to-day and those are the pieces I'm most drawn to. Other trend-led pieces I've been toying with (whilst staying true to my personal style) are necklines. The Bardot, for example, is a domineering style this year but to me it's timeless. In fact, I'm witnessing similar styles to the pieces my mother wore in the '80s, which demonstrates its timelessness. The same is true for asymmetric necklines and while asymmetric bodycon feels a tad too noughties for my tastes, the slouched, Grecian-inspired drape is undeniably chic.
Continue reading for the pieces I've saved on my wish list this month. From what I consider the best scarf coat on the high street, to a debrief on Strathberry — one of my favourite accessory brands of 2023. These pieces may be anti-trend but I'll wear them forever.
The scarf jacket is the ultimate anti-trend piece. Spearheaded by Totême last year, it's proven itself to be a trend-defying piece, as it's still a highly coveted (not to mention functional) style a year on. Last year, scarf coat offerings were few and far between but this winter there are many iterations on the high street, each coming in at much less than the designer price point. COS, Mint Velvet and & Other Stories are a handful of retailers that have taken inspiration from Toteme's blanket stitch original and crafted their own version of the classic in neutral tones spanning grey, camel and navy. This piece comprises 80% wool which is almost the same wool content Totême offers!
I've fallen head over heels for the Strathberry brand lately. I'm most enamoured by the expert craftmanship and humble beginnings of its founders. The brand mindful source the fabrications for each component and design the pieces from the Edinburgh studio. Having just celebrated their 10 year anniversary, Strathberry is cementing its place in the accessory market with timeless bags at mid-price points, though the quality is on par with the likes of Loewe. The Multrees Hobo comprises the signature music bar adornment. The walnut hue with contrast white stitching is a recent addition to the brands arsenal. Add it to an ecru ensemble for a warm pop of colour.
The cowl neckline was iconic in the '90s and it's having a resurgence this season. Although '90s iterations are fashioned on thin spaghetti straps, many of 2023s designs boast a grown up appeal  — bearing long sleeves and on midi and maxi silhouettes. As per, Ninety Percent have embraced a fashion-forward style and created a timeless design to wear and love forever.
Baukjen have shown once again that sustainably minded brands can indeed to directional and elevated. Ruched elements are incredibly classic and just last week Baukjen released a number of styles with this taught bandeau neckline and folded panelling. Pair it with drop earrings and jeans.
Damson Madder hone in on playful pieces you can integrate into a capsule wardrobe and although this piece is a tad more pared-back than the usual offerings, it's still so joyful thanks to the decorative bows. This sleeved smock slip is a great one for party season. PS, the most notable mention is the fact it's a silken style comprised from Ecovero!
Come winter, I always gravitate towards sock boots. The streamlined toe and exposed stitching are details that are much appreciated this time of year when our coats become centre focus and we have to rely on small but impactful designs. I tend to wear midi dresses throughout winter and I find this style of shoe or knee-high boots suits that silhouette well. I also like this colourway with deep indigo jeans.
This is perhaps one of my favourite coats that's ever graced the high street (huge statement, I know).  After being on the hunt for a mid-priced wool rich and polyester free coat last winter, I stumbled across the camel version of this exact coat and it's been my most-worn coat since. It's a clean silhouette sans front facing pockets, which lends it a streamlined and polished look. This year COS have released this tabaco hue and a black version. Size down for a true to fit shape as it features drop shoulders and a generous drape.
If you're a lover of pared back styling, opt for subtle design features like an asymmetric neckline. This colour, lightweight knit and length is in keeping with my personal style.
I couldn't believe these boots were by M&S. Honestly, you' d be forgiven for thinking they were by a high-end designer. While I may be a midi girl, my favourite way to wear flat riding boots is with a jumper, mini skirt and scarf jacket combination.
This winter, Stripe & Stare has collaborated with Parisian fashion maven Camille Charrière bringing you the ultimate capsule. Not only is the brand focus on sustainability, they also seek to revolutionise undergarments, so you'll find pieces that you'll be exited to pull and style beyond the confines of the home. Camille's collection comprises 17 pieces — from knickers to a taught slip dresses with multifunctional use.
It's safe to say that this year the mesh pump infiltrated the fashion scene and netted styles look even more elevated when teamed with a mini heel.
Lutiki is a conceptual brand with a handful of organic shaped jewels. The seed earing is akin to a pip. It also boats a dainty drop to suit the many Bardot styles on offer this season.
Ask Scandinavia's offerings are beautiful (look at the curved nook on this oversized tote) and the brand has a focus on sustainable fabrications, circularity and low impact materials married with its avant-garde designs. They're following in the footsteps of greats like Stella McCartney and utilising is MIRUM®— a new plastic-free and plant based fibre.
A croissant bag couldn't be more apt for me. As someone who usually sticks to neutral tones, I've found accessories are the best way to experiment with colour. I like the relaxed shaping, pleats and gold accents on this design. It's a refreshing take on otherwise sparkly partywear accessories. 
It's officially Cashmere season and I've recently been introduced to Really Wild's offerings. The heritage brand creates read-to-wear pieces inspired by heritage fashion, so you'll find expertly crafted knitwear, tweed jackets and finely knit scarves. There's something about this oatmeal hue that evokes comfort, wouldn't you agree?
Of all jewellery pieces, I wear necklaces the least but I was instantly drawn to this dainty style. The compressed pearls on a barely there link chain is a subtle way of embracing the pearly trend.
My love of vintage-style box purses is no secret. It's a style I've been eyeing for many months. I adore the vintage feel this loans and the polished gold hardware. It's the type of accessory that exudes elegance without much effort.
Coming Up: This Timeless Boot Style Is Far From Boring – 22 Pairs That Prove It