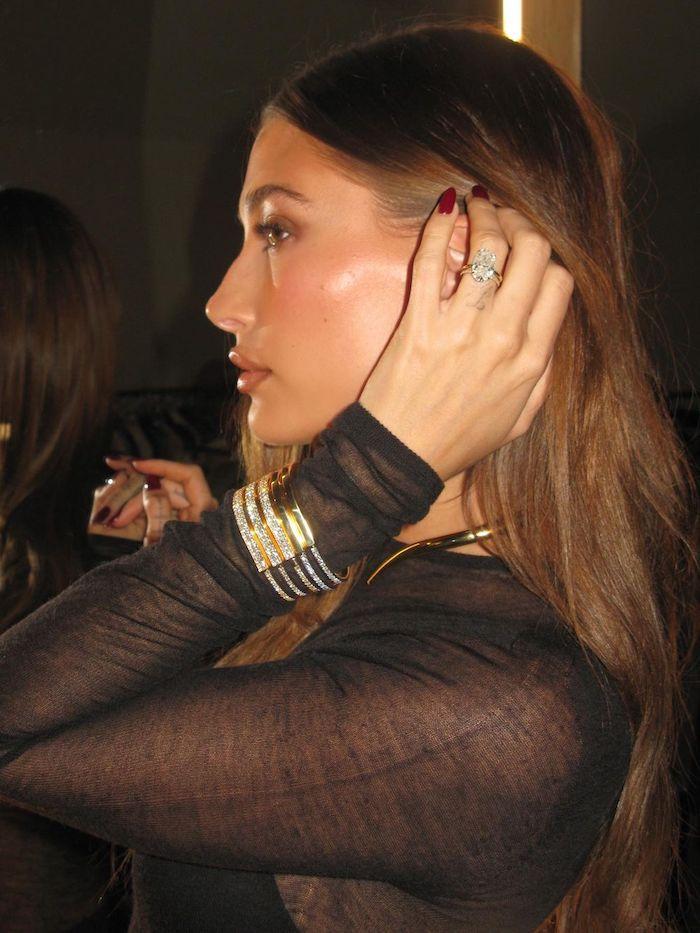 As a beauty editor, I live for product recommendations and makeup tips. The good news is that I never have to look very far to find them because celebrities are rife with them. It only makes sense. After all, they spend a lot of time on set and in the makeup chair learning from the best makeup artists in the business. 
If there's one celebrity I can always count on for some good old makeup inspo, it's Hailey Bieber. She's constantly posting on social media, sharing new product recommendations and inside looks on her personal makeup routine with her millions of followers. 
In one of her latest YouTube videos, the multi-hyphenate model, influencer, and brand founder took us through her autumn/winter makeup routine with the help of her makeup artist, Leah Darcy. During it, she shared a makeup hack that, personally, I think is kind of genius. It is all about blush application and as it turns out, it's how she achieves such a glowing, natural-looking result every time.
So, obviously, I had to try it for myself. Let me tell you, once I did, I was obsessed. In fact, I'm pretty sure my face has never looked better. Keep scrolling to learn everything you need to know about this blush hack. Plus, shop the exact products Bieber used and see my results.
So what is this mysterious blush hack? It's simple. Before applying a cream or liquid blush, she mixed it with a face cream. This does two things. First, it sheers out the colour and makes it easier to blend and build up. Second, it gives the skin a glowing, light-reflective look, which accentuates the cheekbones and makes them look lifted. 
In the video, Bieber used the Barrier Restore Cream from her own brand, Rhode Skin. Unfortunately, it's currently sold out and only available in the US, but we have high hopes (and have heard plenty of rumours) that it will land in the UK. Until then, I suggest using any face cream that gives the skin a luminous look. For example, you could use Charlotte Tilbury's Magic Cream (£64) or, for a drugstore pick, Versed's Dew Point Moisturizing Gel-Cream (£14). Both will give a similar effect. 
As for the exact blush Bieber used, it's the Lip and Cheek Stick from Milk Makeup. The high-pigment formula has a slightly oily texture that helps blend the colour across the skin. Once it dries down, it doesn't budge. I, for one, wore it for a busy eight-hour day, and I never touched it up once. 
On its own, it gives the skin a really pretty flush, but when it's combined with a small amount of face cream, it becomes sheer, dewy, and light-reflective. It instantly made my skin glow and made me feel like I too could have supermodel cheekbones. 
Later on in the video, she used this liquid blush for yet another hack—this time to create a customised tinted lip gloss. She mixed a small amount of the blush with a dab of her Peptide Lip Treatment. Again, this exact lip product is sold out and only available in the US, but I think you could use any clear gloss, like Tower 28's ShineOn Lip Jelly in Clear (£15), for example. 
Since they went for a "monochromatic berry look," Bieber and Darcy followed up with yet another blush. This time, it was the Milk Makeup Lip + Cheek Cream Blush in the shade Quickie, which is a complementary dark berry colour. Darcy applied it onto the back of her hand before tapping it onto Bieber's cheekbones for a more controlled application. "We're kind of just layering two different blushes and just intensifying it," Bieber said. 
She went on to apply this exact same product onto her eyelids with a fluffy eye shadow brush. "I have hazel eyes, so I love burgundy colours on my eyes—burgundy mascara, burgundy eyeliner, kind of like those burnt plummy purple-y colours, because I really feel like it brings out the tiny little hint of green that I have in my eyes," she said. 
Use this on both your lips and cheek to get HB's berry-red glow.
Blend this with your fingers, a brush or a sponge.
Here's my iteration of the Hailey Bieber blush hack. I happened to have the exact products she used on hand. While this is more blush (and more glow) than I would normally go for, I really loved the result. It made my blue-green eyes pop, and using the same shade of blush on my lips made for a cool monochromatic moment. 
It's a bit easier to see the glow in this picture. As I said before, mixing the blush with face cream gave it a sparkle-free highlighting effect that made my cheekbones look more pronounced. 
The liquid blush that Bieber used comes in three other shades, so you can experiment with the monochromatic look you create. First, there's the shade Teleport, which is a bright coral color. 
Next, there's the shade Infinity, which is a stunning and understated mauve color. 
Finally, there's the shade Fly, which is a bright ruby red. I don't know about you, but this one will be going on my eyes, cheeks, and lips for a monochromatic Valentine's Day look. 
I never thought I'd be into orange blush, but then I tried this one. This specific shade and its super-creamy formula make it so wearable. 
Rare Beauty has some of the best blushes in the game, which is why there's so little stock left.
Milani is one of my favorite drugstore makeup brands.
This TikTok-famous liquid blush is worth the hype.
Nars never misses, especially not with this bright coral blush. 
These blush sticks have a balm-like texture that's so easy to swipe and blend.
I'm obsessed with Makeup by Mario products, and this blush stick is no exception.
This water-based liquid blush gives the skin a natural-looking flush. 
These blush sticks are beautiful in every way. My favorite shade is this universally flattering peach one called Minette. 
This story originally appeared on Who What Wear US and has since been updated. 
Next Up: Take Note—These Are the 6 Makeup Rules French Women Swear By