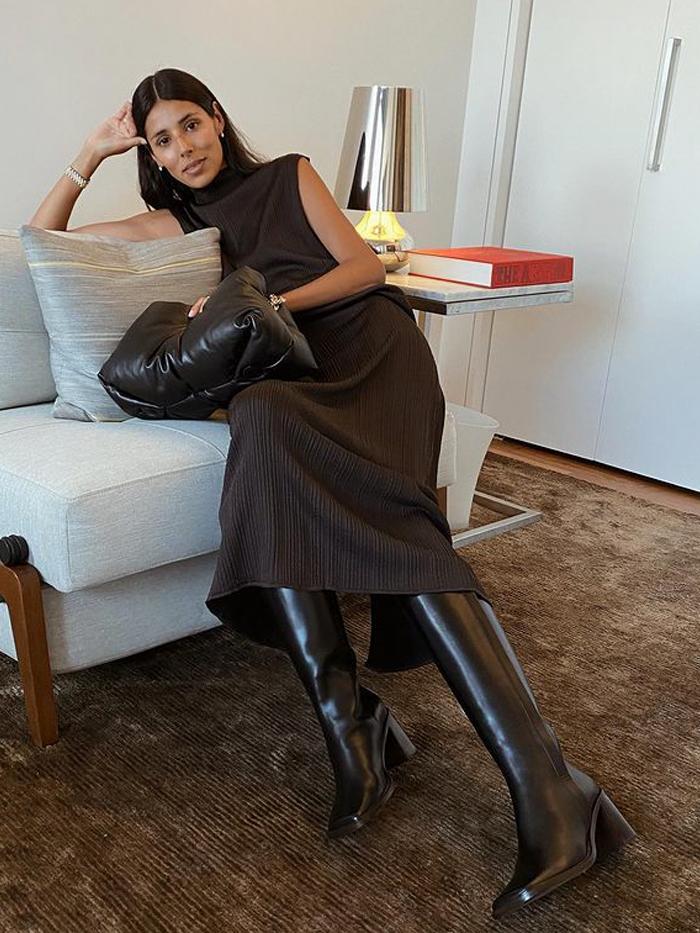 Year in, year out, when the weather is cold you can always guarantee two things–one, leather will always come back into fashion, and two, you will see me in knee high boots. Why? Undeniably, there's just something about the style of the long boot that instantly elevates any outfit. 
For that reason, knee-highs are, hands down, my favourite boot silhouette, and although they've never officially been out of style, it seems like classic leather knee-high boots are really having a moment of late. 
From celebrities to top-tier influencers, everyone is wearing leather knee-high boots, and I don't think that's a coincidence. For one, they're just so chic. It also helps that brands from both the high-street and designer worlds have invested in knee boots in a big way, meaning there's a pair to suit you, whatever your budget.
Leather knee-high boots offer so much outfit milage to be tapped. Right now they work best under knitted dresses or over leggings, but they're also the perfect transitional accessory to take your floatier dresses and slip skirts all the way from winter into spring and autumn. With this in mind, while searching for my own perfect pair, I've curated an edit below of the very best real-leather knee-high boots out there. All of these classic pairs, whether you opt for a flat, low or high heel, will elevate your outfits for years to come (especially as real leather boots only get better with age—just be sure to re-heel them as needed). Scroll on to see my favourites in full.
Everything you could ever want from a high street leather knee boot. 
The influencer's boot of choice this winter.
So elegant. 
Flat boots are in, which means you can tick off fashion and function with these. 
Polished but still with a wearable low heel. 
The look beautifully soft. 
These are right at the top of my wish list right now…
The boots of dreams. 
You just know these will be so comfy as well. 
Saint Laurent's latest It boots. 
I'm obsessed with the wider almost-biker-style of this comfortable pair.  
Every single Who What Wear editor is crushing on these perfect boots right now. 
If you're looking for a classic boot that still has subtle detailing, these could easily pass for a more expensive designer pair. 
This deep burgundy is just so chic. 
A comfy pair you'd get SO much wear out of. 
I love the slight seventies feel to these. They'd look great with midi dresses. 
I love this rich truffle colour for a bit of a change from black.
An incredible offering from Bottega Veneta that you can cherish forever. 
A hint of western style. 
From Kate Middleton to Mary-Kate Olsen, everyone's wearing riding boots. These Gucci's will last forever. 
A smart take on a cowboy boot. 
Toteme always does beautifully polished knee high boots. 
Chocolate brown is the perfect alternative to black for winter 2023. 
These are nice and long in the leg. 
The cute embroidery on these won me over. 
Such a wearable style that has been a bestseller for years. 
A cream pair keeps things fresh. 
I've fallen hard for these. 
Cherry red is the colour of the season, and it's surprisingly versatile. 
The cool buckle on these really makes them stand out from the rest. 
I always turn to COS for expensive-looking high street buys. 
Jimmy Choo's new season boots have a sculptural wedge style heel and elegant pointed toe. 
These feel super unique for a high street boot. 
Next Up, 10 Key Boot Trends That Will Take Over This Winter
This story was originally published at an earlier date and has since been updated.