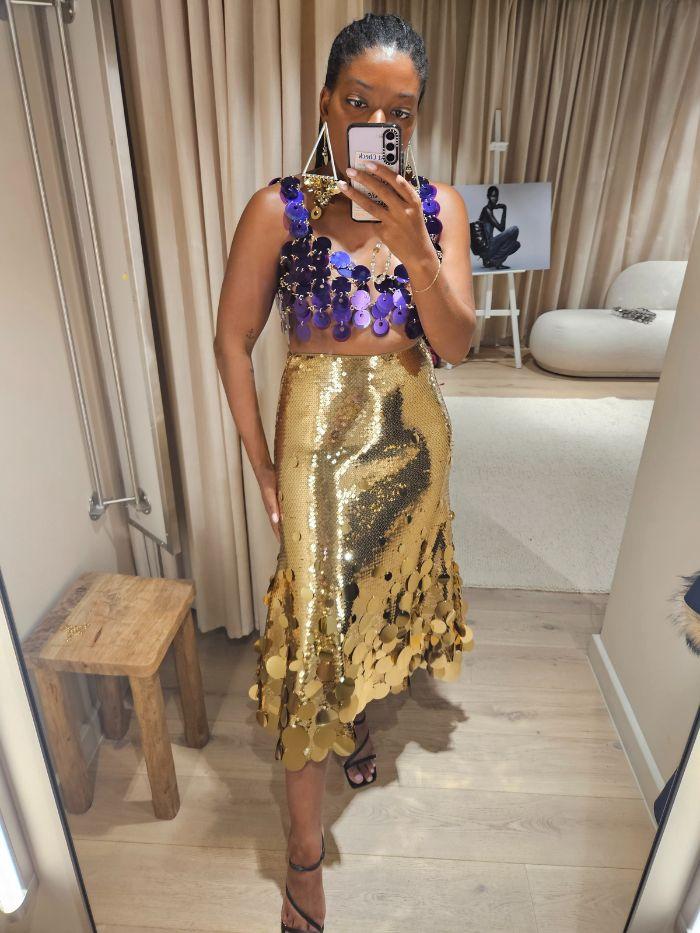 I don't know about you, but as soon as the news of the H&M X Rabanne collection was announced, I immediately got excited. Paco Rabanne, or simply "Rabanne" as it is now known, has been enjoying a revival as of late as part of the same Y2K renaissance that brought back Diesel, Coperni and low slung jeans, and nothing says "Noughties" quite like Rabanne's brand of statement partywear. Take for example the Paris Hilton-esque chainmail mini dresses, or the sequinned bags that have been spotted on the arms of everyone from Kate Moss to Emily Ratajkowski. Even before the first teaser video dropped, the team Who What Wear group chat began to speculate, just how would Rabanne's take on high-octane glamour translate to a high street collection?Well, the good news is, we no longer have to wait. 
Should the thought of a H&M collection comprising of head-to-toe sequins make you feel a little nervous, allow me to reassure you, there is far more to this collab than glitter (but the showstopper pieces do lean into what Rabanne does best). From military inspired jackets and coats, to heady prints, leisurewear and plenty of party accessories, this eclectic collection covers all bases from evening dresses to casualwear for the morning after, all with the unmistakable Rabanne flair. So, now we know what the pieces look like, how do they wear? I headed into H&M HQ for a sneak peek of the collection ahead of it's release on November 9th to try on my favourite pieces and give my honest review.
Those who weren't sold on spring's Mugler X H&M collaboration may find what they were looking for here, as the collection focuses less on sheer, bodycon moments and more on head-turning prints and embellished details to garner attention. Minimalists, this might not be exactly the launch for you (but if you are looking for elevated and well-constructed pieces, check out the latest drop from the Premium Selection, it is second to none). Instead, this is a maximalist playground that convinced this restrained editor to embrace the "more is more" mentality of Rabanne and load up as much sparkle as possible. (I even made a foray into the men's collection, which I find interchangeable with the women's if come launch day your favourites are already sold out). 
So, should your interest be sufficiently piqued, keep scrolling for my picks of the best knits, dresses, coats, tops and accessories from the new H&M X Rabanne collaboration, and why I believe they are truly worth buying.
Style Notes: Despite the fact that I'd seen pictures of the collab before it dropped, this fluffy pink co-ord had completely passed me by, and seeing it for the first time IRL made me audibly squeal. This is, beyond cute. The soft pink colour, the fluffy mohair finish, the subtle crystal sparkle, everything is ticking my boxes, and it's the kind of Miu Miu energy that speaks to my inner child. I know what you're thinking, and no, the mohair isn't scratchy, but yes, it is incredibly warm, but you needn't buy both pieces and layer up. The cardigan or the vest top would look great on their own with a pair of jeans or a black mini skirt and knee-high boots. In fact, that's a Christmas day or NYE outfit idea that I'm bookmarking for later…
Quite possibly one of the best cardigans on the market right now.
And so the knit vest obsession continues. 
Style Notes: And onto our first accessory pick of the collection, and my personal favourite, a deceptively roomy shoulder bag with supersized sequin palettes. The temptation is to relegate this classic Rabanne bag to strictly evening use, but I'd suggest that it looks just as good with a white t-shirt and jeans as it does with an equally sparkly knit. Well done H&M for giving us a designer bag at a high street price.  
The very definition of "arm candy".
Style Notes: Sure, we knew what we'd be getting from Paco Rabanne partywear, but when it came to outerwear I didn't know what to expect. It makes sense though that this big, shaggy, faux fur coat would pair well with everything in the collection. The Seventies vibe helps to dress up all of the sequins and prints to Studio 54 levels, and in the 10 minutes that I wore it, I was not only toasty warm, but having the kind of fun that I did dressing up as a child. And who doesn't love clothing that makes you instantly feel happier? 
Trust me—you'll be prepared for whatever weather winter is about to throw our way. 
Style Notes: Now this is exactly what I was looking for from a collaboration of this calibre. An unfeasibly comfortable (and well lined) dress that feels like wearing liquid metal. No matter how you move, this dress catches the light and looks incredible, and weightier sequins around the bottom create a pleasing amount of sway and movement that will flatter every body. While I don't currently have any events in my calendar that require such a head-turning dress, I'm tempted to create one just for a reason to get to wear this again. If you're bored of relying on a little black dress to get you through party season, allow me to float the idea of the LSD (long sequin dress), it's a guaranteed conversation starter. 
I tried on one size down from usual and the fit was impeccable, so expect a little bit of roominess. 
The heel height here is spot on for a little lift without the need to add comfy insoles. 
Style Notes: Granted, this pairing isn't a look for everybody, but in the spirit of embracing the aforementioned Rabanne mentality, these are the pieces that I had the most fun with. The skirt has the same incredible fit as the silver dress, and although the top takes a couple attempts at getting into, the pay off is there. If you don't fancy showing quite so much skin (the top isnt lined), I'd happily wear it under a blazer or over a tank top to the same effect. The surprise hero of this look is the earrings which are absolutely huge but also incredibly light, so even if you don't manage to grab one of the RTW pieces when they land, the earrings will elevate even the most simple outfit to Rabanne levels. Now, just point me to the nearest dancefloor. 
This shade of purple is such a good choice. 
This sits quite low on the model, but I wore it high around the waist for a midi skirt length that looks good with heels. 
Hands down, one of my favourite pieces in the whole collab. 
Style Notes: This dress deserves a special mention for the fit alone. The floral print is great, and the button details are cool (zoom in to get the full effect), but it's the thick, stretchy fabric that makes this truly special. It hugs curves to smoothing effect and the flared skirt creates perfect balance (and as someone who is bottom heavy, its exactly the silhouette I always look for). I didn't think I would love such a bold piece quite so much, but in the end I didn't want to take it off. Who would have thought that one dress could convince me to be a card-carrying acid floral fan.
I predict this might be a surprise bestseller. 
Style Notes: In more "it shouldn't make sense but it does" news, apparently 70's graphic prints are back? Or at least, they will be after this. This was the print I was most sceptical about as the majority of my wardrobe comprises of block colours and pinstripes at a push, but here I am making the most of what I can only describe as "retro wallpaper print", and not entirely hating it. The micro mini dress would look chic over a black maxi skirt, and the trousers would be great with a black blazer, but it's wearing this co-ord together that helps the pieces come to life. It's stretchy, comfy, and an easy instant outfit, and given the amount of times I've seen it on Instagram already, it looks like a fan favourite too. 
There are splits on both sides, so I think of this more as a layering tunic than a mini dress to wear on it's own.
The kick flare silhouette is perfect for platform heels. 
There's no need to over accessorise when you have a statement pair of shoes like these. 
Style Notes: Another coat to make use of the shaggy faux fur is this double breasted military coat (but a quick word of warning, on first wear the fur has the tendency to shed a little in a way that the full fur coat doesn't, so be prepared to brush it down). Fluff shedding aside, this feels like the kind of piece that would appeal most to the print and sparkle averse as it's a timeless, elegant cut and colour that would work in just about any wardrobe. 
Only a Spanish design house could collaborate with a Swedish retailer for the British high-street and give us a chic nod to French styling. 
Style Notes: Ending on a piece that I spotted in the Men's collection, this chain mail top was just too good to ignore. It's surprisingly easy to get into, and just like the other metallics in the collection, as soon as the light hits, it looks a million dollars. Be aware, it's an online exclusive, so I can see this flying out in a matter of minutes, but whether you wear it over a dress, with tailoring, or even dark denim. this is the quintessential Rabanne look that made the brand a household name, and at a fraction of the cost of runway. Bravo.
How to make knitwear feel dressy enough for evening.
A masterclass in colour-blocking this season's trending red.
You read that correctly, this really is £13. 
Such a cute cardi for Christmas morning.
Wear with a strapless top or dress to make the earrings the star or the show.
Such a elegant neckline.
It just wouldn't be party season without a little bit of sparkle. 
The H&M X Rabanne collection is in live in stores and online from November 9th. Prices start from £27.99.
Up Next, London Fashion People All Agree: This Winter Wardrobe Staple Is a Non-Negotiable