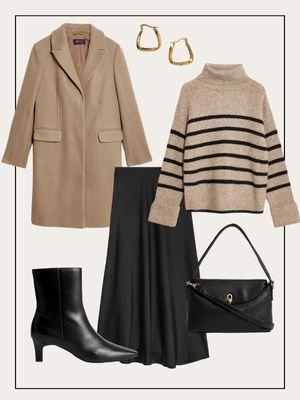 It feels as though overnight winter arrived, bringing with it those dreaded cold mornings. The kind of mornings where standing in front of your wardrobe figuring out an outfit is out of the question. At this time of year, I like the set out easy outfit guides, so I can hop out of bed, quickly dress and get on with caffeinating for the day ahead. When considering easy outfit builds, the simplest way to start is with capsule wardrobe pieces. Those versatile items that can be styled and restyled for various outfits, offering up easy solutions for dressing. One item I find myself relying on more than most is the humble slip skirt.
Recently, I hit the high street to explore the trending colours of the season, and naturally found myself in M&S. In testing out trending chocolate brown, I stumbled across a fluid, comfortable and luxe-looking satin slip skirt. From the fabric to the cut, as soon as I saw it I knew it was a winning piece, with plenty of outfit ideas already springing to mind, I figured I'd share with you how versatile the style is.  
The elegant satin adds immediate elevation, whether pair with a simple t-shirt, or levelling up to your favourite going out top. Though I tested the chocolate brown hue (and fell in love with it) there's no denying the universal appeal of classic black. Whether you're heading out for a coffee date, commuting to the office or enjoying a dinner out, here's 4 ways to style Marks & Spencer's slip skirt for the autumn/winter season.  
For weekend plans when ease and style need to balance, opt for a classic flat boot and chunky striped knit. 
Classic stripes are another capsule wardrobe hero. 
Coat season is officially upon us. 
The skirt in question. 
The lock makes this look so expensive. 
Gold hoops are part of my daily uniform. 
Comfortable yet chic. 
Easy, elegant and workwear ready. 
Tap into the old money trend. 
So many outfits start with a simple white tee. 
Add a contrasting texture with these elegant suede boots. 
Complete the look with this timeless structured bag. 
When smart casual is called for, look to cosy knits and elevated boot heels. 
I have a feeling this won't stick around for long. 
The point toe is so chic. 
Thought this was designer? I don't blame you. 
Dome style earrings are still going strong. 
Dinner dates just got chicer with this easy outfit formula. 
If you told me this was double the price, I'd believe you. 
Elevate your slip for evening with an elegant draped top. 
Silver is a key trend this season. 
Up next, The Complete Capsule: Our List of the Best Basics Money Can Buy