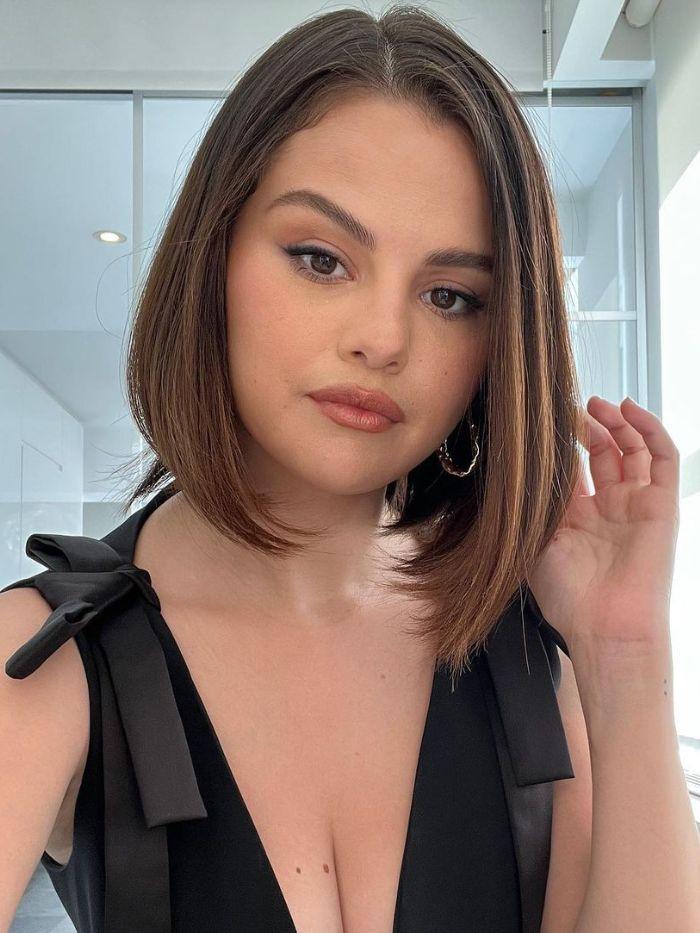 Bob hairstyles were so popular during the summer months, and now that winter has arrived, it looks like the short hair trend is here to stay, and I for one am not mad about it. Not only does the hairstyle look super chic, but it's perfect for pairing with roll neck jumpers and oversized coats this season for an elevated look. That being said, there's definitely something scary about cutting your hair, so you want to make sure that you are choosing the right bob hairstyle for you.
The other day, my friend said she was thinking about taking the plunge and going short for winter, but she was worried that a bob might not suit her hair type as it is quite thin and fine. I knew a bob would look beautiful on her, so in order to ease her worries, I reached out to Adam Reed, hair stylist and founder of Arkive Headcare, to get an expert's opinion on how to make a bob haircut work for thin hair. So, if you want to know how to make your hair appear thicker and fuller when getting the chop, keep on scrolling for all the tips and tricks…
According to Reed, a bob haircut can absolutely work for thin hair. "It's all about getting that balance between movement and volume of the bob when you have fine hair," explains Reed. "Then, you've got to look at density and weight. I'd recommend giving finer hair a stronger, weightier outline, with soft movement through the interior."
Texture is another element to consider. "If your hair is really curly, I'd suggested not going in with massive amounts of layers because it will tend to shrink up the volume, which you want to keep," says Reed.
There are lots of bob haircuts that work for thin hair. If you want your hair to appear thicker, then I would recommend a boxy bob. This is where your hair is all kept at one length and is given a really sharp, blunt finish, which makes it look super healthy and full of volume. 
One of Reed's favourite styles is an undone look with vintage, full-bodied waves. "This style can add volume and structure to the hair, just make sure to prep your hair with a primer to ensure it holds the wave and body." Reed also recommends adding lift to the roots when styling this cut. "Spraying your fingers with a texturising spray and putting them directly into your hair will help to add volume."
This bob appears thicker and fuller thanks to the tousled, 'undone' cut.
Laura Harrier's blunt bob is one of the chicest hairstyles for fine hair I've seen all year.
Want to add some volume? Loose waves and wispy bangs should do the trick.
A great example of how soft movement can make your hair appear much thicker than it is.
Everyone is pairing their bob with a fringe this season, and I can totally see why.
Perfectly tousled waves not only add volume to your ends, but they can make your roots appear thicker too.
If you opt for a blunt bob, why not try curling in the ends with a straightener like Selena Gomez? This will make your hair appear so full and healthy.
A blunt cut and loose waves is the ultimate combo.
You could also try more vintage, full-bodied waves for a serious statement.
Don't be afraid to let your natural hair texture come through either.
Hailey's blunt bob is even convincing me to cut my hair…
This low-maintenance style is perfect for winter.
A blow dry brush is perfect for adding volume to both the roots and the ends of your hair.
When your hair is slightly finer or thinner, it can easily be weighed down by different products, so use a detox shampoo to help give it a really good cleanse.
You also don't want to weigh it down with a heavy conditioner, so opt for a more lightweight option like this Templespa one.
Add some texturising spray to the roots for some serious lift.
As Reed mentioned above, a good hair primer will help to hold waves and body in your bob.
Speaking of waves, this Babyliss wand is great at creating that 'undone' look.
If you're blessed with naturally wavy or curly hair, embrace that texture with a curl defining cream.
For those of you opting for a sleek, blunt bob, this spray from Color Wow is great at keeping those flyaways at bay.
Next Up: The Textured Bob Is This Season's Chic "Anti-Trend" Haircut