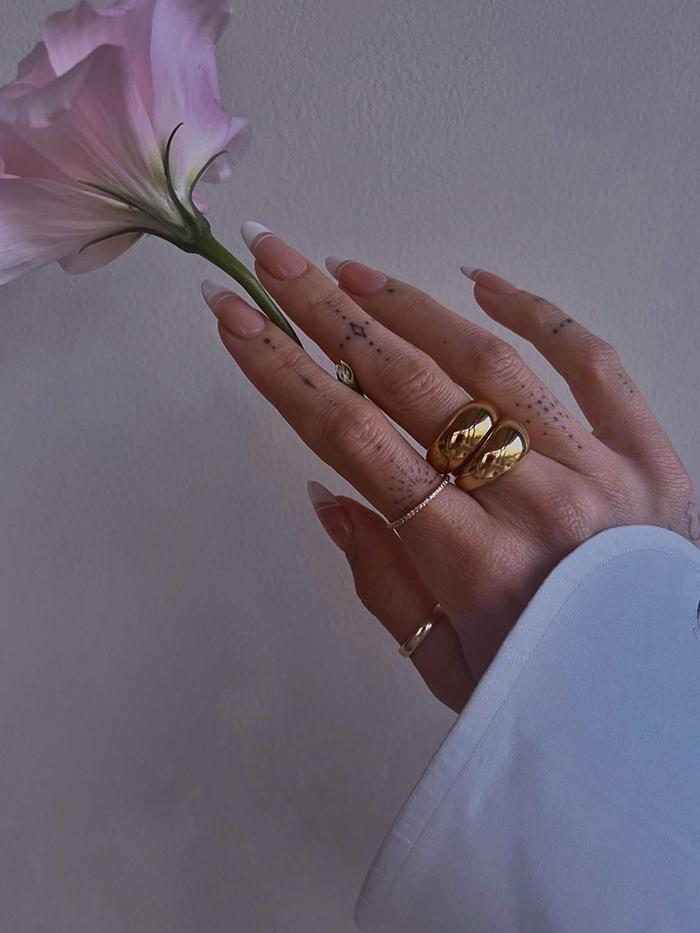 From the often velvet-covered chairs to the glass bottles of beautiful colour lined neatly on marble-effect shelves, there are many things that make a visit to the salon a magical experience. And in 2023 we intend to take full advantage of our appointment with our nail technicians. How, you ask? By opting for some stunning nail art. 
Remember when nail art consisted of water-painted flowers and glittery dragons? Those were the days. However, after its short-lived moment in the early noughties, nail art really dropped off the grid for a little while. In stark contrast to the grandeur and excess of embellished talons and intricate patterns, for the last 10 years or so, nail trends and manicures have, for the most part, remained monotonal, simple and polished.
However, over the past year or so, we have noticed that nail designs have started to get a little more fun again. From colourful rainbow nails to geometric designs, it would seem as though we are all looking for new ways to up our mani game. You'll be pleased to hear that nail art is officially back, and it's chicer than ever.
From negative-space designs and muted statements to intricate artistry and pretty glitters, keep scrolling for the chicest nail art to add to your inspiration board ahead of your next salon appointment.
Muted tones and simple spots—we're in love.
Karina proves that the accent manicure shouldn't be overlooked. 
The high-gloss finish on this easy-to-achieve look is the ultimate touch. 
If minimal designs are your bag, this one should be top of your list. A sheer, nude polish with gold sticker accents is beyond chic.
Why didn't we think of this sooner?
Is there anything Rosie Huntington-Whiteley can't pull off? This simple white-edge finish is seriously cool.
Transparent nails are an emerging nail trend, and they look incredible with nail art on top. 
Switch up your manicure by utilising negative space on one or two accent nails. 
Seventies-inspired nail art is having a serious moment. If you're not into the usual brights, this muted brown design is easy to wear and comes with all of the same retro fun.
Use hole-punch stickers to help achieve this rainbow look. 
Update the classic red manicure with pink tips and half moons. 
Sticking to powdery tones, Claire demonstrates the most stylish way to do rainbow nails. 
Give a pastel manicure a chic update by incorporating graphic shapes and negative space.
We love the contrast of classic red with simple beige.
Switch up the direction of the stripes on each nail for a chic design. 
Graphic and minimal, this nail art look is perfect for those with pared-back aesthetics. 
How chic is this? We wouldn't expect anything less from nail queen Harriet Westmoreland.
A gold manicure? Yes pls.
This is such a pretty way to add some colour to your look.
Linear nail art is still big for winter; make it feel fresh in a bright colour. 
These neon-pink tips are sure to brighten your day.
We are loving the contrast of the nude base colour and the bright yellow. 
These statement tips look great with an all-black look.
Sometimes simple is best.
A tasteful update on the classic French mani. 
These rainbow tips are the perfect way to have fun with your nails but keep things chic at the same time. 
The matte finish on this simple design makes all the difference. 
Pay homage to your favourite designer with a logo mani. 
Whoever uttered the words "pink and green should never be seen" clearly hadn't laid eyes on this pretty floral manicure. 
Sometimes the more colour, the better. 
Keeping the floral design at just the tip of the nails looks so cool.
Who knew yellow nails could look this good?
These retro floral nails are beyond adorable.
Not only is this green shade bang on trend for 2023, but the daisy detailing really levels things up.
These simple daisies can be achieved at home with a dotting tool. 
Bright flower power talons in a rainbow of bright shades? Sign us up!
We couldn't be any more obsessed with this paint-like design if we tried. 
The inspiration behind this nail art was chocolate. We dig it. 
We love the retro feel of these curvy waves.
This design might look a little tricky at first, but once you dissect it, we promise it's not so difficult. Use manicure stickers to create a shape running along the bottom of the nail bed. Once dry, select a lighter or brighter version of the same shade and create a larger or smaller shape across the tip.
So abstract!
These abstract nails are like works of art. 
There's something charmingly Y2K about this mismatch design, and we couldn't be more into it.
Use a fine-tipped brush to get this squiggle design. It'll be super easy to give a go at home. 
Can't choose between dots or stripes? Go for both! 
Probably one for the experts, but we can't wait to take this design down to the salon eventually. 
These straight lines might look simple, but they're anything but easy to create. Note how the matte background makes them pop. 
Switch up your swirly mani but opt for a slightly different design with clashing polishes on each nail.
Inspired by quartz gemstones, this stunning nail art will make you feel calm whenever you glance down. 
How cool is this wavy effect?
I'm obsessed with this rose quartz nail design.
Aura nails are one of the hottest nail trends right now. 
This iridescent look is out of this world.
These marble nails are so classy.
Show us something chicer than this glossy, tortoiseshell-inspired manicure. We'll wait. 
Okay, who can teach us how to do this tortoiseshell design right now because we can't wait?
Not great at freehand painting? Paint over confetti to get this cute finish. 
You don't need to be a wiz at nail art to nail this design (pardon the pun). Paint your nails in a blush tone, apply smiley stickers wherever your heart desires and paint a clear topcoat to seal. 
Evil-eye designs are cropping up regularly on our feed. The precision might require an expert hand, but the chic results are well worth it.
We are obsessed with these simple stars on bare nails.
This '90s-style nail art with daisies and hearts is so sweet. 
Enhance squared-off nails with some graphic lines set against a blush base. 
Gold foil makes for the perfect manicure accessory. 
The detail on this citrus-inspired manicure is impeccable. 
Another gemstone-inspired manicure to covet. We love the addition of this wave of sparkle to these simple nails.
You don't need to have super long nails to pull off detailed nail art; in fact, it can look all the more expensive. 
Sure, we're big fans of understated nail designs, but something about this bejewelled mani is calling out to us.
Glitter isn't just for the festive season. This glitter-dipped mani works all year round thanks to its minimal nature.
Name a better colour combination than navy and gold.
This sparkles-and-glitter combo is a total work of art.
We love the way the natural nail shines through with this sparkly look.
This halo manicure is next on our list to try, and it can be done at home. Use French-tip stickers to create the halo, and alternate which section you apply a glitter topper to on every nail.
For those who want to add a little bit of sparkle, this pretty nude design is perfect. 
Assemble your favourite shades, and do small, light brushstrokes to create an abstract look reminiscent of modern art. 
Inspired by your pre-teen notebook, adorn your nails with doodles of stars, dots and hearts for a cute talon look. 
It would appear that cherries are the fruity nail art to flaunt right now.
How cute are these hearts?
The brighter, the better.
In our opinion, you can't go wrong with Skittle nails. 
If you find neon a little bit garish, this is the perfect happy medium. 
Oh so simple but oh so gorgeous.
This pastel mani is embellished with letters layered on top. 
Two-tone nails in bright colours look amazing. 
Yes, those are maps. 
Beauty Pie's nail varnishes are long-wearing and this neutral hue makes a great base for nail art designs.
Taking on the French tip trend? These nail guides will give you seamless results.
A white polish is a must in any nail art collection, whether you're creating abstract swirls or flowers.
This hard-wearing top coat will ensure your nail art stays put for longer.
A classic Chanel red nail polish is a must for chic fingertips.
Create precise dots and shapes with a dotting tool.
This story was originally published at an earlier date and has since been updated. 
Next Up: Without a Doubt, These 8 Nail Colours Will Be Everywhere This Year