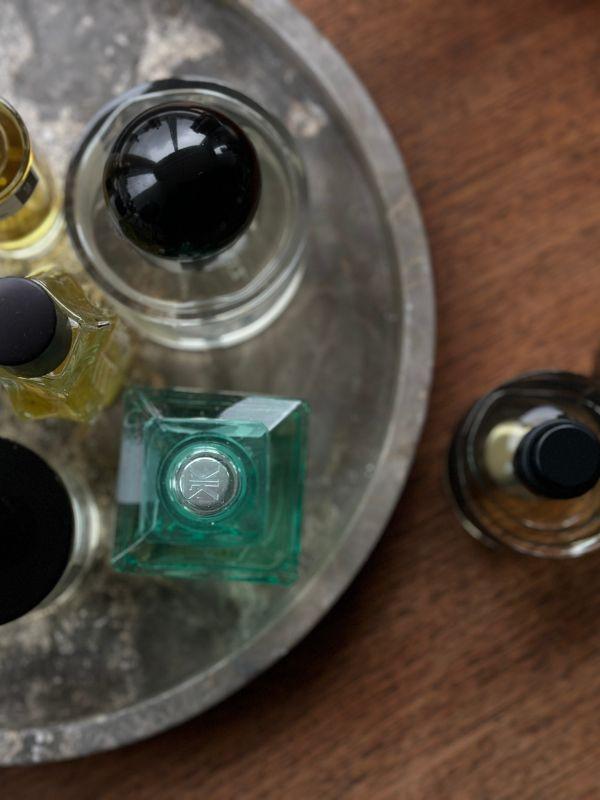 Finding an unconventional or unusual fragrance in order to stand out from the masses is actually easier said than done. After all, it's the same blends of popular notes that feature in the majority of perfumes. Notes like rose, sandalwood, musk, and oud are probably super familiar to even those who take no more than a passing interest in perfume. But while the market is dominated by floral, fruity, and woody perfumes, a new fragrance trend is beginning to break through and change the perfume landscape. Enter, vegetable fragrances.
First and foremost, and despite what you might think, these perfumes won't leave you smelling like food. In fact, most of these scents—when used in perfumery—smell very differently to the culinary ingredients we're more familiar with. The thing is, when a new fragrance note arrives on the scene it doesn't always immediately rise to popularity and become a big hit in the same way that a buzzy new skincare ingredient does. Fragrance notes are faced with more of a challenge, since they have to get past our personal taste and subjectivity, which is often ingrained in us by the fragrances we're used to smelling. 
Because of this, it can take decades for a scent to gain popularity or to be used as a top note after years playing a minor role in fragrance blends. Indeed, some of the notes we now consider to be common were once controversial or were featured within blends but rarely spoken about—and I'm certain that in ten years time, we'll feel very differently about vegetable notes within fragrance, too.
As someone who doesn't like to smell like everyone else, I've learned that it's the rare and unconventional ingredients that can instantly transform a fragrance and elevate it from the ordinary to the extraordinary. Even before I discovered the wonderful world of vegetable fragrances, I've always been drawn to slightly more unusual and unexpected notes—classic florals and fruity perfumes really aren't my bag, but give me something earthy or herbal, and my interest is immediately piqued. My gateway vegetable fragrance note was tomato—which in the past few years has increasingly been featured in bright, green, summery perfumes. It adds a ripe earthiness and balances really nicely against citrus. If you're intrigued by the vegetable fragrance trend, then I'd recommend it as your starting point, too.
According to a recent report by trend forecasters WGSN, the vegetable fragrance trend is set to peak in 2024, so now's the time to get clued up. "It's part of a wider movement that sees perfumers seeking gender-free and more inclusive compositions. As fragrance moves away from its traditionally gender-based storytelling, it needs new scent profile inspiration," the report says. "Vegetable botanicals and culinary foods are becoming a strong influence, inspired partly by consumers' renewed interest in growing their own vegetables." 
If the idea of a vegetable-based fragrance sounds a bit daunting, don't worry. For the most part, these perfumes aren't dominated by strong, savoury notes as you might expect. For perfumers, they offer a more interesting alternative to traditionally used floral and fruit notes—allowing new ways for notes to be paired and blended.
"Natural notes in perfumery have of course traditionally been focused on flowers, woods, spices, resins and fruits, but vegetable notes offer interesting depth and can be used in imaginative ways within modern compositions," says Beckielou Brown, perfume creator and founder of Altra, who explains that used skilfully, vegetable notes can open a new dimension in a fragrance."I imagine as this trend progresses it will be about finding novel ways to incorporate them, either to highlight a particular facet already present in the scent, or to contrast them in order to offer a modern clash to classic compositions," she adds.
Typically, vegetable notes are greener than florals, lighter than woody notes, and not as sweet or synthetic as fruity notes can be. Some of the most popular vegetable notes—carrot, tomato, cucumber, and green pepper—add a fresh, green, or woody element to scents, while the likes of artichoke, rhubarb, and pumpkin add softness or sweetness.
Below, find 16 vegetable fragrances that I promise you'll want to add to your perfume collection.
Vegetable note: Carrot. Within fragrance, carrot presents as a warm, dry and somewhat earthy scent. It's the perfect accompaniment to the fruity top notes of bergamot, fig, and rum in this underrated Byredo perfume.
Vegetable note: Carrot. Warm and spicy, this fragrance combines carrot with clove, pimento, and ambrette. The result is a cosy and intimate perfume, ideal for winter.
Vegetable note: Artichoke. While rose takes centre stage in this perfume, artichoke keeps it feeling fresh and modern, thanks to its bitter green accent.
Vegetable note: Cucumber. The blend of tea and cucumber is simultaneously soft and fresh—makin this light, delicate fragrance perfect for spring.
Vegetable note: Fennel. Fennel is an underrated fragrance note which adds something both sweet and peppery to the vibrant freshness of this woody green perfume.
Vegetable note: Green pepper. D.S. & Durga are well known for creating unique fragrances that often draw upon unusual fragrance combinations. Inspired by its founder's background working in New York bistros, this is a decidedly savoury scent. Alongside green pepper, other culinary notes include coriander, pear, basil, and nutmeg.
Vegetable note: Cucumber. If you're after something slightly less adventurous… Fresh, cool cucumber stands out against a soft musky background in this wearable fragrance.
Vegetable note: Pepper. Inspired by an autumn harvest festival, this is a soft, smoky fragrance. Pepper is one of the bolder notes in the blend, standing out due to its zestiness, and softened by the likes of hay, nutmeg, and orris.
Vegetable note: Rhubarb. This spicy, earth fragrance is one of my go-tos on days when I'm feeling indecisive about what scent to wear—it somehow always works. Rhubarb (which yes, is a vegetable, not a fruit) sits with mint, citruses, and basil against a woody base.
Vegetable note: Cauliflower. Cauliflower has to be one of the most unusual vegetable fragrance notes I've ever seen. If you're wondering what it actually smells like, the answer is musky and earthy.
Vegetable note: Tomato. Fresh, vibrant, and green, tomato is one of the more frequently used vegetable fragrance notes—it's often featured in classically summery perfumes like this one.
Vegetable note: Green pepper. Bright and bitter, green pepper is the top note in this aromatic fragrance. it's sharp, fresh, and spicy—a real showstopper.
Vegetable note: Pumpkin. Pumpkin is an interesting note because it's at once fruity and spicy. This warm, velvety scent also features notes of rhubarb and sandalwood. it's cosy, creamy, and a go-to for autumn.
Vegetable note: Beetroot. This musky, powdery scent is exactly the kind of perfume I'm drawn to. While I'm actually not a big fan of eating beetroot, the note adds a sweet earthiness to this addictive fragrance.
Vegetable note: Tomato. Ripe and green, this bright, fresh fragrance evokes memories of hot summers spent playing in my grandparents' greenhouse.
Vegetable note: Beetroot. If spritzing yourself with a vegetable-based fragrance isn't something you're quite on board with, consider embracing the trend via home fragrance instead. Loewe has a collection of candles and room sprays drawing upon ingredients including beetroot, tomato, and cucumber.
Up Next: I Exclusively Wear Woody Scents—These Are My Cult Picks