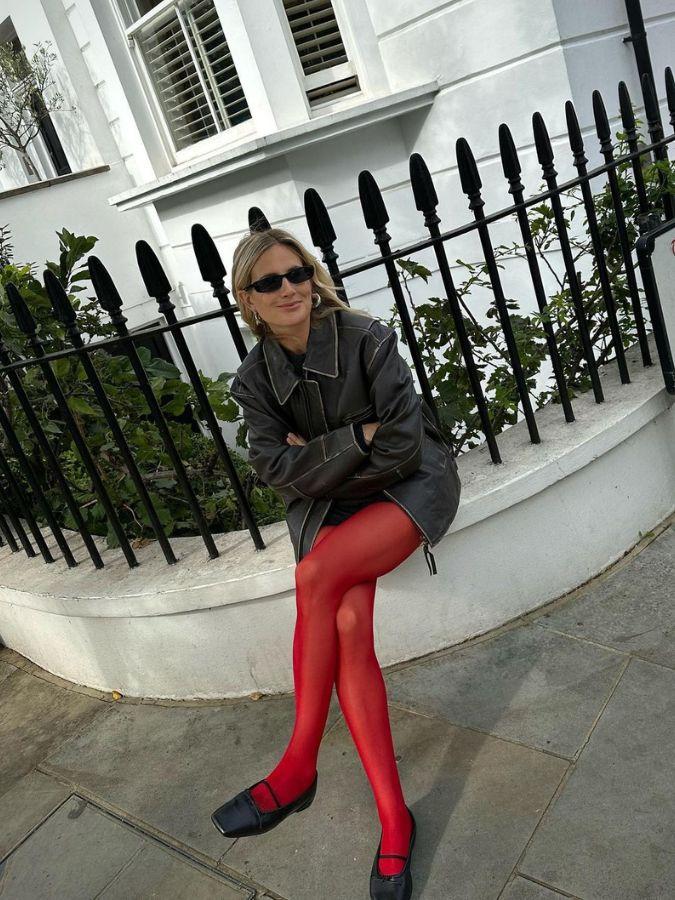 Whether you like it or not, tights weather is upon us. The sun has clocked off its shift and winter's cold breeze is only getting stronger. And whilst you might cringe at the thought of hoisting up an old pair of tights, this season's styles aren't what you'd expect. Saying goodbye to the solid black and beige tones that used to dominate the market, this year, the most stylish dressers are reaching for flashy tights in  bright shades and striking patterns.
We've already spotted Victoria Beckham dressing up her LBD in a very chic pair of patterned fishnet tights, and for their retro associations and sultry finish, it seems fishnets are back with a vengeance this season, ready to dress up the party outfits of the fashion set. 
Spotted on many a showgoer during Paris Fashion Week, 2023's tights are the easy styling trick that has swiftly emerged as the in-the-know accessories trend to shop this side of winter. 
Quite literally dipping her toe into the coloured-tights trend earlier this autumn, fashion influencer Lucy Williams wore a bright red pair with trending leather mary janes and an oversized leather jacket. Working the statement tights into her casual look, Williams demonstrated their surprising versatility. To get in there first and elevate your festive-season looks, read on to shop our edit of the coolest tights to buy now.
How to do designer logos in an understated way. 
Classic fishnets are back for 2023.
If you think brightly-coloured tights are only for fancy dress, see Lucy Williams' above look. 
For those who just want to be warm, you can't get more winter-ready than fleece-lined tights. 
This subtly printed pair would look so chic with pointed slingbacks and a sleek leather skirt. 
Tick off two microtrends at once—checks are one of the season's hottest prints. 
Just the right amount of sparkle to keep things grown up. 
Okay, hear me out—imagine these with a black blazer dress or a leather trench…
Next Up: 6 New Winter Print Trends That Will Elevate Your Entire Wardrobe