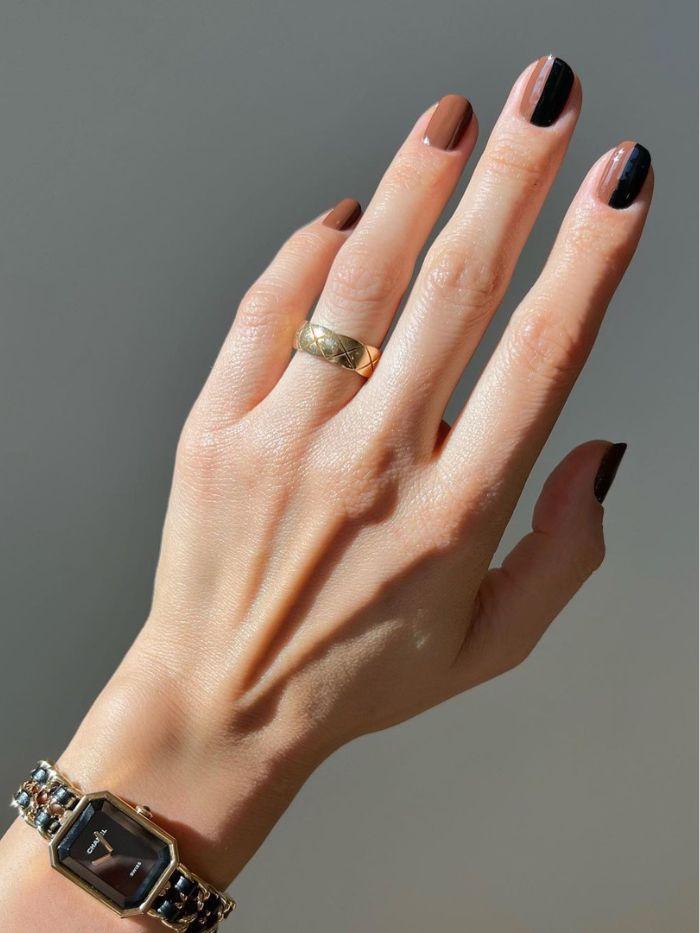 If you know me, then you'll know that I love black nail polish. I wear it in summer and winter, as I happen to think that it looks chic all year round. Sure, I enjoy experimenting with nail trends now and again, but I always go back to a simple, monochromatic black manicure. However, lately I've been seeing chocolatey brown nails all over my Instagram feed, and it feels like the perfect time to switch things up (slightly).
The hashtag #brownnailpolish has a cool 4.6 million views and counting on TikTok, and although this expensive-looking nail colour is nothing new and simply a neutral go-to for many, perhaps it's the 'latte' beauty trend that is prompting a surge in further interest. Or, it could be the fact that summer's more frivolous, fun colours now feel a little out of place when the weather has been so dire.
What I love about this spectrum of shades though, is that you can find one to perfectly complement your skin, or experiment and try out a lighter or darker tone depending on your mood.
The warm tone and shiny finish make this nail polish look so elegant, and we all know that you simply can't go wrong with luxe neutral shades. In fact, I'm going to be asking for this exact colour next time I'm at the salon. I've already planned my autumn wardrobe, so why not get my nails ready too?
"Brown nail polish is very much in style, echoing the rich brown shades of caramel, toffee and chocolate from the popular 'latte' makeup look," says Juanita Huber-Millet, founder and creative director at Townhouse. "Much like how brown tones are trending in the makeup world, brown nail polish has made a massive comeback. It adds a touch of sophistication to any look, and is perfect for embracing the cosy and inviting feelings of autumn."
If you want to give this sophisticated nail trend a go, I'verounded up my favourite brown nails for all the inspiration you need. I've also linked some of my favourite brown nail-polish shades, so you can re-create the look at home. Just keep on scrolling…
This is the perfect rich brown shade for autumn and beyond.
If, like me, you don't want to say goodbye to black completely, why not opt for this fun half-and-half design?
This is one of the chicest French manicures I've ever seen.
Sometimes, simple is best.
This nail art is the ideal way to add a subtle dash of brown to your mani on a paler base.
I told you—this colour will complement any outfit.
Brown French tips are unique spin on a classic idea.
The glossy finish makes this brown manicure look even chicer.
So, so luxe.
A marble brown mani? Yes, please.
This ring is just as elegant as the nail colour. 
How cute are these chocolatey little hearts?
I absolutely love these different brown tones together.
Hermès has created the dreamiest deep chocolate brown colour. I just know that I'll use this time and time again.
If you want that shiny, gel finish, opt for this brown Essie polish.
Nails Inc. knows what it's doing when it comes to nail polish.
For a slighty lighter brown shade, Chanel has you covered.
I'm calling it: This will be the shade of the season.
Sephora's nail polishes are so affordable, and I love the shape of the minimalist bottles.
This story was published at an earlier time and has since been updated.