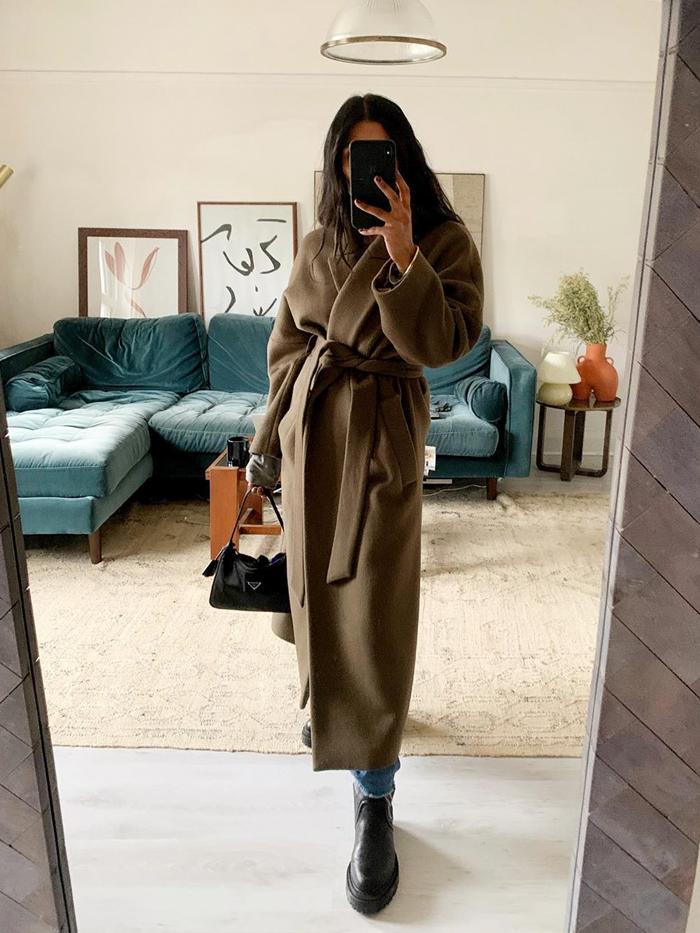 When it comes to building an impeccable wardrobe, the high street is key for certain staple pieces: midi dresses that'll see you through any kind of occasion, knitwear that works just as well during the week as it will on the weekends and, of course, versatile coats. This is why we're once again turning our attention to Zara. Ah, Zara. Naturally, there are plenty of reasons we shop at this affordable high-street hot spot, but right now, we're thinking about the outerwear offering that has just landed, both on-site and on its IRL rails. 
Monikh Dale's Zara coat looks so expensive.
Is it just us, or does the brand's coat selection get better every season? We believe this to be the case—so much so that we just had to share some of it with you. However, with literally hundreds of coat styles currently on offer, who has time to sift through them all in the hopes of finding the coat to see you through everything from winter walks to evenings out? Well, we do.
With classic trench coats, timeless belted jackets, double-breasted blazers, oversized silhouettes and so much more, keep scrolling to see our pick of the best Zara coats to shop right now before they inevitably sell out.
This also comes in a timeless cream hue. 
I can't believe this is from the high street. 
The round, collarless neckline adds to the expensive feel of this coat. 
If you told me this was designer, I'd believe you. 
This elegant coat will go with everything from relaxed jeans to night out dresses. 
A timeless style you'll rely on every year. 
This will see you through the cold, damp winter months. 
The hard part is choosing which of the four stand out shades to go for. 
A timeless addition to any wardrobe. 
Celebrate the cropped length with high-rise silhouettes. 
The distressing adds a vintage feel to this coat. 
The contrast black buttons are a nice touch. 
The double-breasted coat comes back every year. 
This soft mole hue is endlessly chic. 
I rely on a lightweight trench coat every time to temperatures drop. 
The thin belt is a designer-looking detail. 
A very cool take on the trench coat. 
Add contrast to a simple jeans and tee look with this faux leather trench. 
Such a fun silhouette. 
This suede iteration is a real stand out. 
This story was originally published at an earlier date and has since been updated. 
Next Up: The 9 Most Expensive-Looking Pieces on the High Street This Week