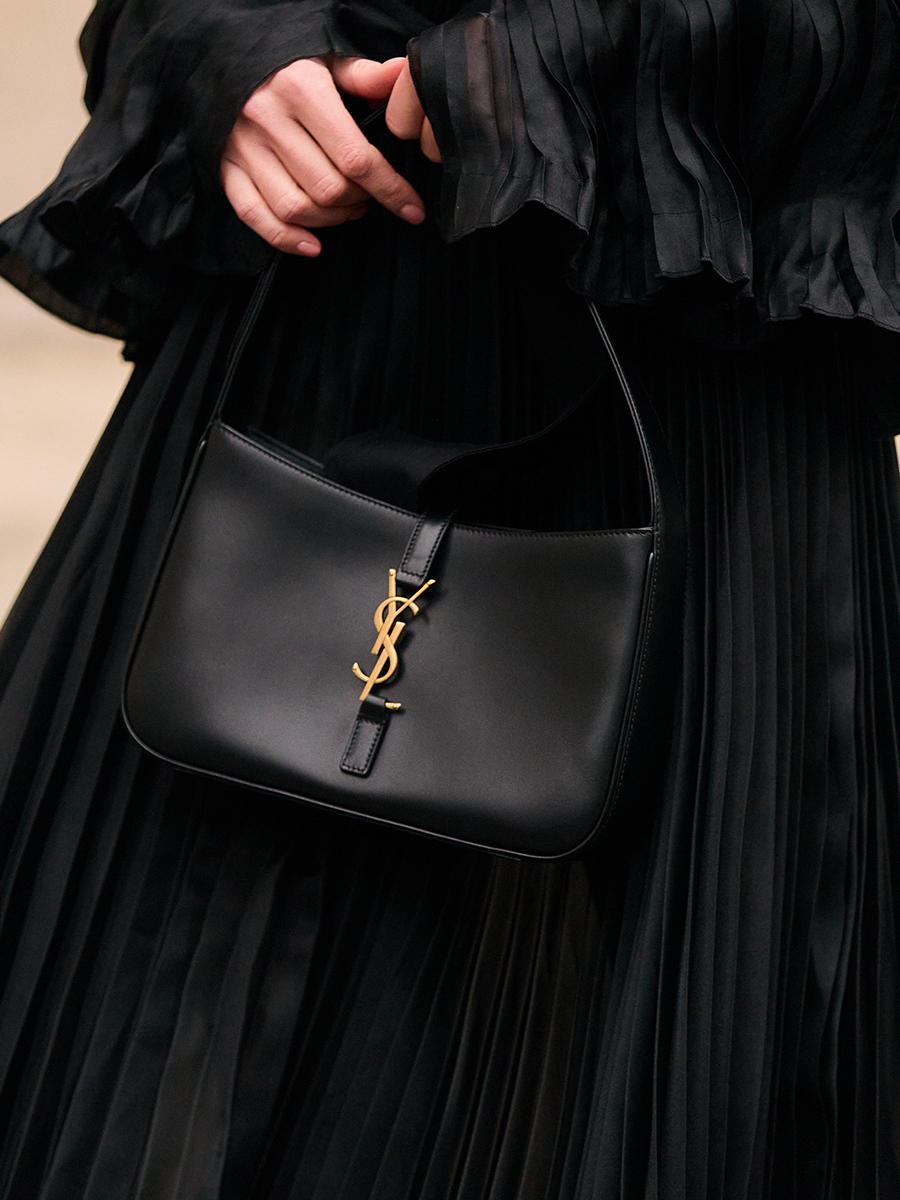 As far as we're concerned, no designer handbag collection is complete without the addition of a Saint Laurent bag. We believe them to be just as classic as those from Chanel, Hermès, Celine and Dior, and we think they deserve just as much consideration if you're fortunate enough to be contemplating a new designer-handbag purchase. 
Founded in 1961, the French fashion house designed pieces that tapped into the utilitarianism that many designers at the time embraced by way of tailoring and heavier fabrications. Although bags were never brand founder Yves Saint Laurent's primary focus, he approached the category with the same utilitarian goal to create items of quality, practicality and longevity.
Today, under the creative direction of Anthony Vaccarello, Saint Laurent bags remain some of the most versatile you can find on the designer-arm-candy circuit. Signatures include simple, structured silhouettes; materials such as suede and shearling; and techniques such as quilting to add softness. It's this refined aesthetic that bestows Saint Laurent bags their everlasting appeal—the demand for which is now at its peak.
Many of our favourite style stars have been sporting Saint Laurent bags of late, particularly those with the brand's iconic and inimitable YSL logo, and waiting lists are growing for some of the brand's most popular silhouettes. This should come as no surprise considering searches for them are up 30% since September 2021.
But which Saint Laurent bags are really worth investing in? We've rounded up the need-to-know Saint Laurent bags, from the icons to the contemporaries, for you.
Saint Laurent's College top-handle tote feels particularly classic thanks to the timeless envelope shape, a closing favoured by the brand. Made in Italy from supple leather that's quilted in a chevron pattern and topped with a YSL plaque, this imitable bag is a must for designer devotees. 
The quilted black College with gold chain and hardware is iconic. Plus, it is the perfect size for both day and night.
I love this boho-inspired suede iteration. Imagine it over a floral midi dress and shearling jacket. Dreamy!
Named after Loulou de la Falaise, Yves Saint Laurent's close friend and muse, the Loulou is one of the most beloved and recognisable bags in Saint Laurent's line-up. Its hallmarks are its soft but boxy structure, front-flap closure and quilted-chevron finish. In leather or suede, it gets our vote. 
This is one of the brand's most-loved and well-known bags, and for good reason. 
How pretty is it in the nude? This will work just as well with tan in winter as it will with white in spring.
A relatively new silhouette for the brand, the 2020-launched Solferino crossbody continues to crop up on the Instagram feeds of those in the know. Of course, you can always opt for the timeless black colourway, which offsets the YSL hardware, but these on-trend hues might also tempt you. 
The Solferino is timeless. Choose the biscuit-brown shade as opposed to black for something versatile. 
Opt for a bold colour if you want to make a statement. I love this classic shape in the trendy frog-green shade.
Shoulder bags are trending in a big way right now, and Saint Laurent isn't missing a beat. Its Le 5 à 7 bags keep selling out on Net-a-Porter, Matches and Harvey Nichols, but there has just been a restock. The pale-pink version is particularly eye-catching. 
Nod to the '90s trend with these shoulder bags. Unlike other styles, it doesn't have a crossbody strap, but that doesn't mean it's not easy to cary. 
How beautiful is this soft black leather number? 
Saint Laurent's Manhattan shoulder bag is named after the city that never sleeps, which is why it's well-suited to styling both night and day. Its clean, straight lines, minimal detailing and sparing use of metal hardware make it one of the most-reserved bags in the YSL line-up but also one of the chicest. 
If you're not a fan of logos, you needn't fear. This subtle, understated style is so chic. 
This pink iteration is so elegant and promises to be just as versatile as your black or tan handbags. 
Modelled on a camera bag, the Lou is an everyday essential for many fashion enthusiasts. As a nod to the Loulou, this bag most commonly features a chevron-quilted upper, and it comes in just about every colourway you can think of. At just over £1000, it has a lower price point than other designer handbags out there, but make no mistake—this is still one serious purchase.
Channel French-girl chic with a handbag in ubiquitous black. I'll be wearing the Lou with everything from jeans and sweatshirts to minidresses and heels.
I love the nude version of this best seller. Whether you wear it with knitwear now or white linen in summer, it's bound to be a year-round favourite. 
The relaxed shape and roomy interior of Saint Laurent's Niki bag make it the ideal everyday bag for people on the go, who perhaps find it difficult to shrink down their belongings to fit into the Lou. The preferred finish is supple, ever so slightly distressed leather, which gives it a bit of a vintage feel. It also features the brand's trademark chain-link strap, a fold-over flap and, of course, a YSL logo to the front.
The Niki is so roomy, with enough space for all your everyday essentials and more. 
Raffia detailing is having a moment for summer. This version is bound to make a statement. 
Owing to its smaller size and delicate treatment, the Kate is perhaps the most "evening" of all Saint Laurent handbags. One of the most striking features of the Kate bag is its delicate chain tassel, which hangs below the YSL emblem and swishes gently with every movement, making it the perfect partner for the dance floor.
Carry the Kate as a clutch or use the chain so you're hands-free on your next evening out.
To really impress this party season, opt for the glossy two-tone style. 
Saint Laurent's Sunset bag has accordion sides, so it holds more than you'd first expect. Even the crossbody iteration proves roomier than some of the other bags in the YSL family. We, however, always find ourselves drawn to the top-handle options, which offer more styling versatility.
You may not have considered grey for an investment bag, but the Sunset is here to change your mind. 
How beautiful is this? The type of bag you pass down, the black Sunset will never go out of style. 
Another new bag for the brand is the Kaia, named after model of the moment Kaia Gerber. Gerber has become a runway regular for Saint Laurent, so it makes sense that she was Vaccarello's muse when it came to designing this bag. We'd expect nothing less from the daughter of runway legend Cindy Crawford. 
Kaia is relatively new to the Saint Laurent family. The perfect everyday bag, it fits all the essentials and has a handy card pocket. 
Le Maillon is perhaps one of the brand's most luxurious-looking silhouettes. The gold-chain hardware makes the collection feel especially stylish and is inspired by the bag's moniker, Le Maillon, which is the French word for "link." It might not have the YSL branding, but Le Maillon is no less special. 
Another gorgeous choice for those who'd prefer little branding. The white Le Maillon is seasonless. 
An elegant beige handbag will elevate any winter look.
It's almost impossible to think of a Saint Laurent bag without first picturing the Uptown, which, like the Kate, feels elegant and appropriate for wearing with your fanciest outfits. The envelope-shaped flap-over closure, as we've already discussed, is a key Saint Laurent design detail—as is the YSL metal emblem. 
The uptown is another great evening bag. Plus, this nude shade would be perfect for a bride-to-be. 
Have a little fun with this playful metallic style.
Launched in 2013 during Hedi Slimane's tenure as creative director, the Sac de Jour has become a cult hit among accessory aficionados. The Sac de Jour, or "day bag," has a classic, structured silhouette with accordion side panels that extend to fit all your belongings. Special details include a concealed padlock on a detachable lanyard and a handy keychain attached to the interior. 
Sophisticated yet functional, the Sac de Jour will look just as good at the weekend as it will at the office. 
How amazing is this beige-brown shade? 
Although many of Saint Laurent's bags boast bold YSL branding, if you're looking for something more refined—and along the lines of Le Maillon—look no further than Le Carré. This satchel-inspired bag is a contemporary classic with practicality at its heart. It has a roomy interior with zipped-off compartments and a strap that allows you to take it from a shoulder-length bag to a crossbody. 
I love a white handbag for winter as well as for spring. 
Satchel-style bags are always popular, and it doesn't get much more classic than a black iteration.
Confidently elegant and undeniably French-looking, Saint Laurent's Cassandra bag is structured to a boxy silhouette that, with its top handle and envelope closure, feels reminiscent of vintage handbag designs. Choose from everything from plain black leather to tweed with contrast piping. When it comes to Cassandra, you really can't go wrong. 
With its vintage, Parisian feel, the Cassandra will look so stylish paired with relaxed tailoring. 
The suede fabrication adds a little something different to this iteration.
Last but certainly not least is the Icare Maxi tote bag, which you have most likely spotted all over Instagram being toted by celebs, editors and influencers. New for this year, it features the iconic quilted outer as well as a toggle closured, removable interior pouch and oversized YSL signature logo. 
If you really want to wow, this is the bag for you. 
This story was originally published at an earlier date and has since been updated.
Next Up: The Best Designer Handbags of All Time, According to the Experts.