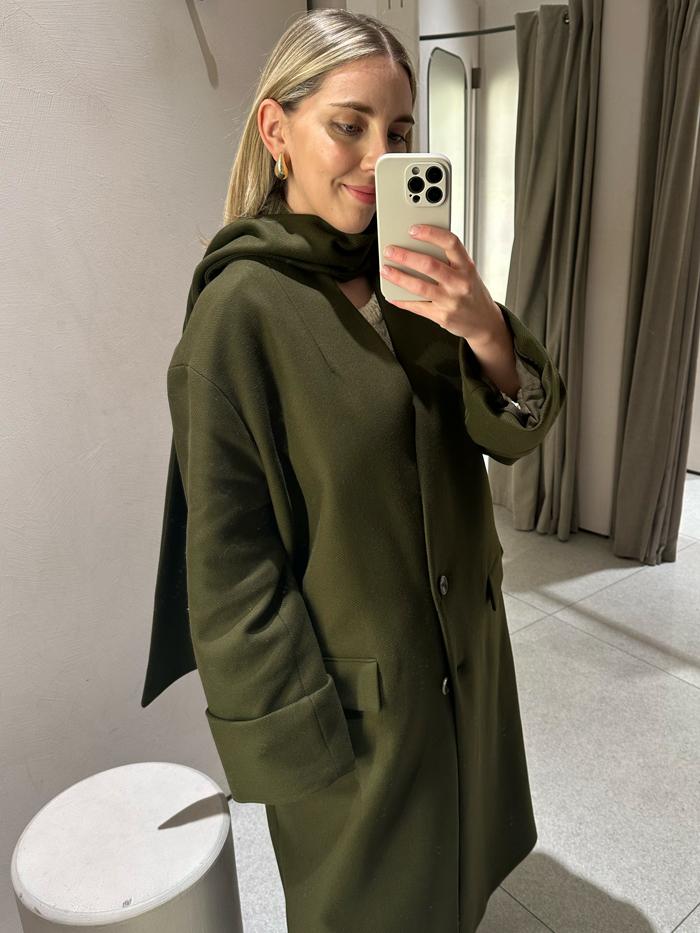 Zara has always been one of my default brands but, as someone who spends more cautiously than they did in their twenties, and simply isn't as hung up on having something "new" anymore, my appetite for quick fashion fixes has waned somewhat. This applies to all brands—not just Zara.
It's funny—I actually have more willpower shopping online compared to when I go into real-life stores. The urgency doesn't feel quite as intense virtually as it does when you realise there's only one left in your size of the piece you're eyeing up on the shop floor. Still, when the Who What Wear team asked me to head out into the field and get to grips with Zara's new winter collection in the wild, my interest was piqued. Would I end up liking pieces when they're actually in front of me that'd I'd previously scrolled by in-app?
In my opinion, Zara truly comes into its own in the winter months. Fabrics become more premium (much of what I would end up trying was wool or wool blend) and the colour palette feels instantly more refined. This would be the first time I've physically been in a Zara store since the latest collection launched, and I was excited to see it up close. So, I hopped on the bus into Edinburgh's town centre (I live and work from home in Scotland) and headed straight to Edinburgh's St. James Quarter, which happens to be home to one of the biggest Zara stores in the UK.
First impressions? There's a lot to like! I saw more coats I could have taken home than I have wardrobe space to house. The shoes lined up at the bottom of each display translated into a roll call of the biggest footwear trends of the season; cue spiky boots, Mary Janes, stacked loafers basically anything that can be buckled. Tailoring is a big focus for the brand this season, this much is clear, but how would my favourite pieces—most of which included trousers—translate on me, a 5'3″ woman with an hourglass figure who is a true size 12? And let's face it, Zara isn't exactly known for its consistent sizing, is it? Well, let's find out! Scroll on to see the pieces that impressed me during my Zara winter 2023 try-on…
Style Notes: I'd seen this scarf coat doing the sounds on Instagram so, the moment I spotted it as I headed into the store (strategically positioned near the entryway), I headed straight for it. Throwing it on over the trousers and tee I'd worn for the day, I was immediately struck by how expensive-looking the colour was; it really is the perfect shade of olive. I grabbed a M/L which is what I typically take in Zara coats (I'm of the opinion that the chunkier a knit is, the better it is, and I need room to accommodate such sizeable purls). The cut is very straight and boxy—no bad thing but perhaps I could have grabbed the S/M for a less throw-on fit. The scarf could do with being a little wider but, owning the Toteme scarf coat which is pretty cumbersome, I definitely understand why Zara has made its scarf more slender; it's more malleable and stays in place when thrown nonchalantly over the shoulder.   
Style Notes: I'm a sucker for a co-ord, especially when a waistcoat is involved. I already own a Zara waistcoat-and-trouser set, and its something that, whenever I wear it, I receive compliments on. I'd seen this two-piece, which is part of Zara's more premium Collection edit, online and I was surprised (and very happy!) to see it in my local outfit. Of course, being the height that I am, the legs were far too long. I know us petites complain about such things but we have the option to take away fabric by way of a tailor or, if you're creatively blessed, a pair of scissors and at sewing machine at home. It's much harder to add fabric if you're taller. Anyway, the fit! I know these are wide leg but I always approach Zara trousers with caution; my thighs are full and I like them, and I've been known to go up to a size XL in Zara trousers just to get them to fit around them. These are a M. Even if my thighs were to fit, I'd suspect I'd still need at least a L to pull them over my hips and bum without risking a burst zip, But these were roomy and hung beautifully.The waistcoat was great, too; it entirely covered my bra (no mean feat when you're wearing a full-coverage 32G). I paused on the trousers (for now) but the waistcoat? It came home with me. 
Style Notes: See what I mean about Zara's winter colour palette? It's divine! This midnight blue sleeveless coat and rust-hued slip skirt were visually merchandised together near the front of the store and, in the two hours I spent looking through its rails and in the fitting room, I saw two more people pick up this exact pairing. I might not be original in this instance but I'm okay with that. This feels incredibly premium and soft to the touch—a wool blend, I would have liked to have seen this in 100 per cent wool, but I am still impressed by how chic it looked. Again I grabbed this in a size M/L which, with the belted waistline to add definition as desired, I'd probably go ahead and purchase. Again, I found this skirt to be on the roomy side for Zara—I tried on a M and there wasn't the slightest bit of cling. If I didn't already have three slip skirts at home (one in a too-close-for-comfort camel colour), this would have found its way to the checkout with me… 
Style Notes: Can you tell I have a thing for outerwear? Although this is listed as a coat, it's essentially a very thick cardigan—one which I had wanted to try on with the Navy faux leather trousers but, alas, they were all sold out in my size. If I were to have seen this on someone during fashion week, I would have genuinely thought it to be designer; everything from the marl charcoal wool to the relaxed sleeves and wrapover frontage, and the patch pockets to the leather tie waist. It all just works. It's not the cheapest knit I saw in store but, in terms of style and longevity, this one wins out. 
Style Notes: One thing I noticed during my Zara scout was the serious lack of dresses. There were a few slinky silk numbers situated near the back of the store (which I imagine will be pulled forward in the next few weeks) but none of them felt especially different or noteworthy. Perhaps the best is yet to come. However, on my second or third lap of the store, I came across this satin midi (how I missed it merched on a mannequin front and centre of the entrance is beyond me!). It was styled over a pair of black trousers so I decided to follow suit. And you know what? I was really into it. As someone who doesn't really "do" sequins and sparkle, this felt like a very grown-up way to do party—one that I think I could look back on in photographs and internally beam at the fact I went for something a bit different. I like to define my waist, so I wrapped the longer tie around it to create a more distinct silhouette, but I think it would look equally cool (if not cooler!) left loose. 
Style Notes: Right now I keep seeing fashion people wearing all-grey outfits. Perhaps they've all been to their local Zara store, for everything grey has been grouped together, looking like the elevated costume department of a black and white movie. The key to keeping your all-grey looks interesting is to integrate different textures into your outfit. An easy way is by choosing a knitted top as, well, your top. Being petite, I find that cropped knitwear helps to keep my proportions balanced. I grabbed a sleek pair of grey trousers in a M and L and, low and behold, it was the M that I'm wearing here. Has Zara finally sorted its (albeit limited) sizing to reflect the rest of the market? I won't hold my breath, but it was encouraging to think that more people might be able to wear Zara's winter collection than previously may have. To finish the look, I opted for a pair of Zara's buckled shoes—a block-heel pair with multiple straps. I'm always between a 37 and a 38 in shoes but I found the 37 to be the perfect size in this style. Again, these very nearly made it to the check out with me… 
Next Up: The Autumn/Winter 2023 Fashion Trends That Really Matter