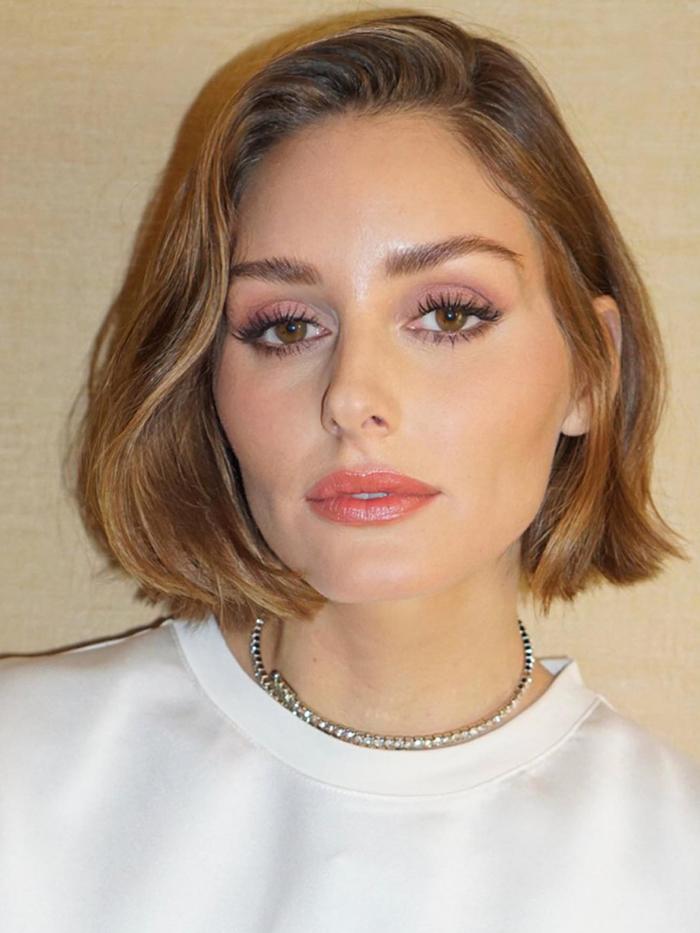 Having a hairdresser for a mum has meant that I've done just about everything you can think of to my hair. I've been platinum blonde, mahogany brown and everything in-between. I've framed my face with feathering and had thick fringes cut in. I've had hair down to my waist and chopped to my chin. It's fair to say I was pretty fearless with my hair. That is until I got older.
I don't know why, but for some reason, I've defaulted to long-length hair in a creamy hue with lived-in roots. But after witnessing some impressive hair transformations on Instagram of late, I'm finally going to give my 'do a refresh. And the look I'm toying with is a blunt bob.
Hailey Bieber's box bob has caused commotion in the Who What Wear office ever since she debuted it. So chic!
The blunt bob has undergone a bit of a resurgence as of late. A far cry from the dreaded bowl cut, instead, influencers and A-listers alike are opting for jaw-skimming hairstyles that feel modern, refreshing, grown-up and just a little bit sexy. My rationale? It's only hair, so I suggest going as sharp as possible, much like Kaia Gerber or Lily James. Should it feel too severe, you can always ask your stylist to take some of the weight out of the ends of your hair, which will subtly soften the appearance of your 'do while maintaining its sleek silhouette. Case in point? Linda Tol or Jourdan Dunn.
If you, too, are looking to change up your hair before the year is out, scroll below to see 51 more gorgeous blunt bob hairstyles. 
I love the blunt cut of Rochelle Humes' bob.
Zendaya proves that blunt ends and tousled waves are a perfect match in this bob haircut.
I love how Pixie Lott has styled her blunt bob into a side parting with a chic hair clip.
Laura Harrier's shoulder-skimming bob is *chef's kiss*.
Oliva Palmero's jaw-skimming bob is the inspo we're taking straight to the salon.
Ciara recently stepped out with this blunt bob cut with a side parting, and we're into it.
Kaia's wavy bob and smokey eye duo is just gorgeous.
I'm obsessed with everything about this haircut.
Franny proves that the blunt bob can only be improved by the addition of beautiful braids. 
Collarbone lengths can still pull off the blunt look. 
Daring to take your blunt bob above your chin could bestow you with a look this cool. Almost. 
So. Glossy. Is Emily Ratajkowski even real? 
Lily James knows that blunt bobs always look their best set against a roll-neck. 
Francesca Saffari makes her blunt bob look even sharper thanks to her contrasting '80s-style puff sleeves. 
Proof that sometimes the simplest hairstyles make the biggest impact. 
Jourdan Dunn's slick centre parting makes her 'do look all the more dramatic. 
A sharp, chic and utterly timeless black bob has the power to make or break a look.
This is the shortest I've seen Maria Bernad's hair, and I love it. 
Sometimes a classic cut is all you need as the pièce de résistance to a great look. 
If you want to make a real statement, opt for a cut that lines up with your lips. 
Tessa Thompson is fast becoming my favourite blunt bob muse. 
Proving that side partings never really went anywhere, Margot Robbie's slicked-down blunt bob is providing some serious inspo.
The curler the better with neck grazing natural bob so says Yara Shahidi.  The star's multitextured pattern is the stuff of day two curl dreams. 
Linda Tol's blunt bob has been a staple style for her for some time, and it offsets her oversized tailored look perfectly.
It's love at first sight when it comes to Laura Harrier's textured, curly bob.
Make your choppy bob look that little bit more bohemian with styled waves.
Aïda Sané's minimalist wardrobe lends itself really well to such an understated and chic haircut.
Your blunt bob can involve an equally sharp fringe, you know. I'm always looking to Amy Lefévre for inspiration on that front.
On those days where you want a more retro-glam feel, simply swoosh your hair over to one side.
It really is the kind of hairstyle where you wake up and just look instantly good.
There's something about Kate Mara's cropped, platinum bob that feels so right.
Heat-style some messy beachy waves into your bob during the summer months.
A choppy chin bob doesn't have to equal the end of styling. A side part allows for an everyday style.
High-necked dresses are the perfect accompaniment to a blunt bob hairstyle. 
Everything about Kerry Washington's side-parted, retro bob is sheer, sleek perfection.
Billie Piper's honey-blonde curly bob is one of the most iconic celebrity hairstyles of the moment.
I love Liv's longer bob, which has a slight '70s feel.
Margot Robbie's bob has such a Parisian feel, don't you think?
Emma's shorter, wavy bob is just dreamy.
Taking a little weight out of the ends of a blunt bob and adding some subtle choppy texture is the perfect way to keep things low-maintenance.
This look from Lucy Hale is the very definition of glass hair. Plus, the subtle feathering at the front is a great way to add some flattering shape.
Who says blunt bobs can't have layers? This blunt style is full of volume thanks to a mix of layers.
Waves on waves on waves. Try adding a beachy curl to your bob to create an everyday look. 
Vanessa Hudgens's blunt lob is giving me all of the inspo, and I need to know what products she's using to get that shine.
Grey is fast becoming the newest 'IT' hair colour (again) and what better way to style it than a uber cropped bob?
A side-parted, swept-back, wet-look lob with blunt ends? Taylor Hill is serving the hair inspo we never knew we needed.
Chin-grazing bobs are having a moment. Wear straight and tucked behind the ears for a super chic look.
Although this texturised bob still looks sharp, the ends of the hair have been cut very softly to create natural movement without layers.
Blunt bob braids have been seen on the likes of Rihanna, Teyana Taylor, Amandla Stenberg and most recently influencer Franny Mozemba.
Micro-bobs and micro-fringes are bang on trend—as proven by Alyssa Coscarelli.
Hailey Bieber continues to serve all the blunt bob inspo we need.
Lily Allen's take on a blunt bob is fresh and modern thanks to its angular cut. 
While blunt bobs are undoubtedly chic, making a drastic hair change can require a switch-up in your day-to-day styling routine. To help get to grips with the best way to look after and style a blunt bob, I asked Ryan Forsythe, international artistic director for Trevor Sorbie, for his top tips. "Blunt bobs are universal and can work on all hair types. It's a timeless haircut that never goes out of style," he says.
Plus, it's a super-versatile style. "If you want a bob that is low-maintenance, try air-drying using Shu Uemura Art of Hair Shiki Worker to condition and leave hair looking healthy," he says. "For a more polished bob, I would avoid too much volume and go for a vertical wave with a mid to large curling iron for an undone finish. Use a paddle brush to smooth down, and finish with Kérastase Elixir Ultime for added shine."
Looking to update your product line-up? Keep scrolling for some of the best styling products for blunt bobs.
Blunt bobs do run the risk of being a little more high-maintenance when it comes to styling. This wireless GHD styler can be used to straighten, wave and curl, and it can be chucked in your handbag for on-the-go hair emergencies.
This all-in-one solution preps, detangles, smooths, and conditions. Plus, you can use it for both air-dried and blow-dried styles.
Consider this your texturising best bud. It's on the pricer side, but I'm yet to find a texturising spray this weightless and long-lasting. Spray into ends and zhuzh for an undone finish.
As Forsythe suggests, use a paddle brush to smooth down the hair.
For an ultra sleek and sharp finish, spritz this into the hair and smooth down with your hands from root to tip. 
This weightless oil-serum is the ultimate finishing touch for a sleek and shiny finish.
This silky cream adds weightless volume from root to tip.
Use this mist to add body to the lengths and ends of your bob—it creates depth and structure in even the thinnest hair.
Looking to add shape and definition to your bob? This curl-activating serum helps to define and enhane your natural waves and curls.
This story was published at an earlier date and has since been updated. 
Next Up: 55 Celebs and Fashion People Who Are Making Me Want to Chop Off All My Hair