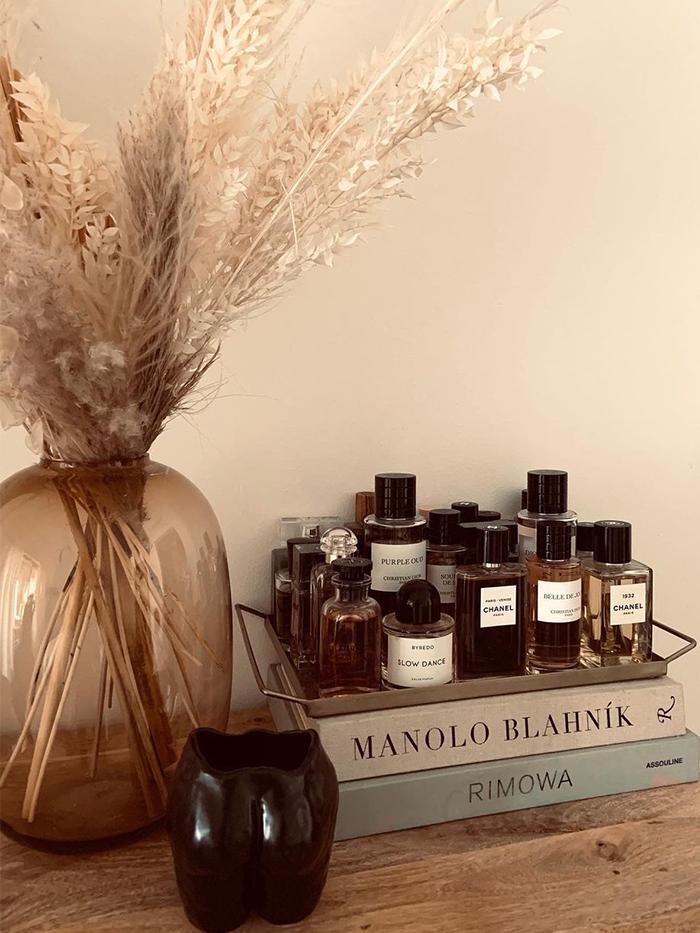 I have a confession to make. Since starting my career as a beauty journalist, I've acquired quite a collection of fragrances over the years. Due to the nature of the job, I've been lucky enough to receive lots of expensive fragrances, from Byredo to Jo Malone, and I've developed quite a high-end taste—and nose. It was only when standing in the queues of some of my favourite high-street stores recently that I really took notice of the affordable fragrances available. And in recent years, they have seriously upped their game.
While we love treating ourselves to premium fragrances, we also love finding an affordable gem to add to our perfume collections.
With brands such as Jo Loves (which was founded by fragrance royalty Jo Malone) pairing with stores like Zara, high-street fragrances have shed their sickly sweet reputation and become seriously sophisticated. In fact, you can probably find a perfume dupe on the high street—or at least something very similar—for the most popular fragrances nowadays. So you don't always have to break the budget to smell expensive. Whether you like clean-smelling fragrances or fruity scents or want to find your signature perfume on a budget, high-street brands H&M, Marks and Spencer, & Other Stories, The Body Shop and Zara are really leading the way for more affordable high-street perfumes.
To help you find your new high-street fragrance, I've found the best sellers from each store and put them to the test, matching them and their notes to their more expensive counterparts. And I have to say, these are now permanent fixtures on my fragrance shelf alongside my premium favourites.
If you've been sleeping on M&S's perfumes, it's time to get yourself acquainted. I have been spritzing this sandalwood scent since it went TikTok-viral and sold out everywhere. If you're looking for a similar perfume to Le Labo's Santal 33, then I'd urge you to try this. I'll admit, the staying power is not it's strong suit, but at £10 for 50ml I can justify the cost-per-spritz to top-up my fragrance throughout the day.
Loved by fashion insiders and beauty editors alike, this fragrance has notes of sandalwood and cardamom, which give it its clean-smelling, woody scent.
I'll hold my hands up and say that I've previously overlooked Marks and Spencer's fragrances, and it was only when I started writing this article that I came across the diverse collection that it has. Sea Salt & Neroli is an M&S best seller, and I can totally see why. It smells so much for expensive than its £10 price tag suggests, and it's one of the best salty fragrances I've found. Out of all of the expensive perfumes I own as a beauty editor, it's the one perfume my boyfriend always comments on when I wear it. It's salty yet refreshing—like slicing open an orange or sipping a zesty, salt-rimmed margarita. If Tom Ford's Neroli Portofino and Jo Malone's Wood Sage & Sea Salt cologne had a baby, this would be it. 
This citrus scent is reminiscent of sitting on the breezy Amalfi Coast with an Aperol spritz aperitif in hand. The top note of bergamot mingles with mandarin orange, lemon and bitter orange for a zesty spritz before drying down with herbaceous lavender, rosemary and myrtle, which paves the way for African orange flower, neroli and jasmine. The warm base notes of amber, ambrette and Angelica are subtle yet beautiful. It's no wonder it's such a popular fragrance.
This is one of my favourite Jo Malone London scents. It's aquatic smelling, like a brisk walk along the British coastline on a windy day. The sea salt notes are tempered with earthy sage, which is ideal if citrus scents aren't usually your thing.
Fruity fragrances aren't usually my thing, but when my nose caught this, it reminded me of Tom Ford's Lost Cherry. This has top notes of sweet ruby cherry and pink pepper, which dry down to a sensual mix of florals such as frangipani, orchid and jasmine sambac. The base notes include tonka bean, vanilla and musk, which make this fragrance very long-lasting for its reasonable price tag. Many of these notes also feature in Tom Ford's Lost Cherry, but it comes in at a fraction of the price.
Jammy cherry and syrupy liqueur notes are juxtaposed with with Turkish rose and jasmine sambac, making it a sweet fruity scent that also smells sensual. 
If you're a fan of rose fragrances, then I implore you to try this fragrance from The Body Shop. Far from your nanna's powdery rose scent, this is beautifully moody and modern. It reminds me very much of Jo Malone London's Red Roses. British Rose has notes of rose absolute, saffron and amber, making it a warm floral with long-lasting wear throughout the day. It's also certified vegan, and 91% of the ingredients are of a natural origin.
Imagine burying your nose into the most luxurious of rose bouquets, and you have this scent. 
Turkish rose, cinnamon and amber make this fragrance a modern-day classic.
I've previously written about my love of fragrances that smell like expensive suncream, and this totally fits the warm, sun-kissed scent criteria. You only have to read the reviews of this affordable perfume to see its appeal. It's a solar-floral that instantly takes you to days spent at the beach. H&M doesn't list the notes of this scent, but I can detect sea salt and white florals, which give it its beachside aroma. It reminds me a lot of Estée Lauder Bronze Goddess and Tom Ford Blanc de Soleil.
A fragrance classic for a reason, this instantly transports you to the beach. Zesty Italian bergamot unfurls into jasmine sambac, coconut and frangipani before drying down to cashmere wood, musk and alluring amber.
Smells like sailing on a luxurious yacht in the middle of the Mediterranean surrounded by sparkling seas. Solar florals combine with creamy coco de mere and warm amber.
Jo Malone herself (who has since gone on to be the founder of Jo Loves fragrances) has created fragrance wardrobes for Zara, and I'm obsessed. This particular one is part of the latest collection, which is inspired by cities around the world. In my opinion, this smells very similar to Maison Francis Kurkdjian 724. It has notes of expensive-smelling sandalwood and smells fresh and aquatic to me, much like a clean-smelling fragrance. It's the ideal kind of perfume to wear day to day.
Infused with with airy aldehydes, Italian bergamot and sandalwood, this fragrance became a hit with beauty editors when it launched.
This is The Body Shop's best-selling fragrance, and during the '90s, it cemented its status as a cult scent. It's still as loved today thanks to its timeless notes of vegan musk, aldehydes (which give fragrances that clean scent) and a soft floral touch of jasmine. When I smell this, it reminds me of those clean, fresh-out-of-the-laundry types of scents that make you smell like you but better.
The Body Shop's White Musk has a similar effect to Eccentric Molecules Molecule 01. Much like how White Musk uses musk to make your skin smell like you but better, this reacts differently on everyone to enhance your own natural scent.
White Musk smells very much like Juliette Has a Gun's Musc Invisible. Notes of cotton flower and musk make these two fragrances sisters.
This is another standout from Zara's growing fragrance collection. This is a beautiful rich gourmand fragrance that still smells sweet yet sophisticated. Jasmine, saffron and amber notes smell similar to the likes of Maison Francis Kurkdjian's Baccarat Rouge 540.
Rich amber is paired with sweet florals in this iconic fragrance.
Upon smelling this, it instantly reminded me of Marc Jacob's Daisy and even a little bit of Chanel Chance Eau Tendre. This easy-to-wear floral smells like a springtime day spent under blue skies. Expect to smell notes of gardenia, vanilla, grapefruit and sandalwood.
Marc Jacobs Daisy is a fresh floral, which smells very much like Marks and Spencer's Gardenia and Vanilla fragrance.
A radiant, fruity-floral scent that is so wearable and chic.
Listen up—Bon Parfumeur is an affordable French fragrance brand that beauty editors flock to for seriously chic fragrances on a budget. The brand's 301 scent features a luxe combination of amber, sandalwood and amber, which are both  warming and addictive. Spritz within the vicinity of others and you're bound to get compliments.
I turn to Aesop for those quiet luxury fragrances that you won't find everyone wearing. If you like woody and aromatic scents, then you'll love this.
This story was originally published at an earlier date and has since been updated.