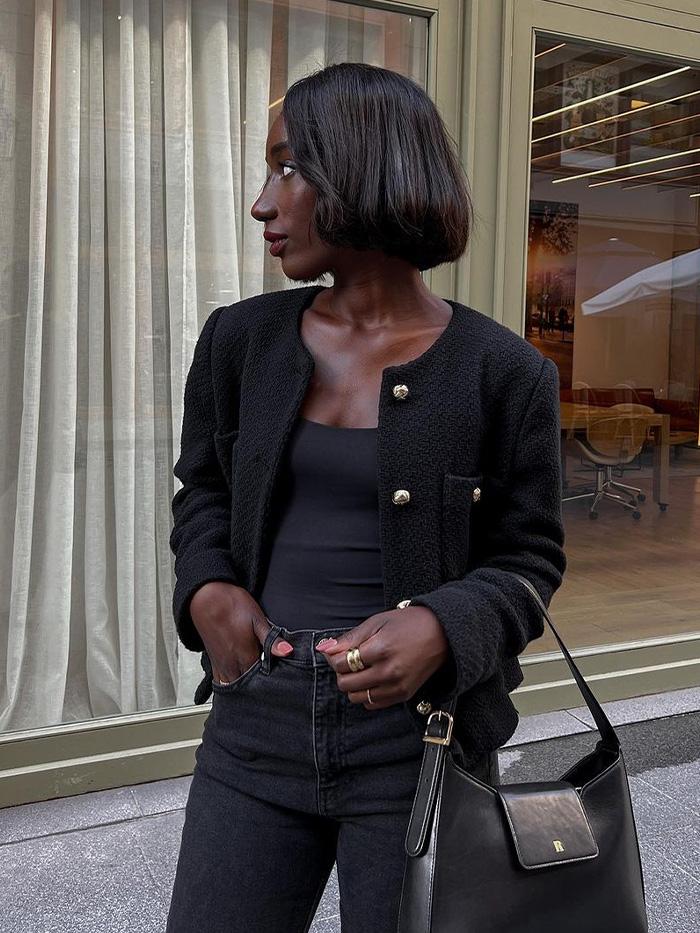 Whenever I'm in the mood to treat myself to something new—something affordable to scratch the itch but still make all my existing outfits feel fresher—I always head directly to two places: H&M and Zara. Both retailers have nuanced and often elevated takes on the trends and appeasing price tags, so I don't think I need to go into detail as to why I find them so appealing. However, just because I get the urge to shop doesn't mean I do so frivolously or without consideration.
Aida wears a top from Zara.
Sure, there are pretty pieces in every H&M and Zara category, but that makes their respective websites a bit of a trap where appearances can easily lull you. However, when I shop H&M and Zara, I do so with as discerning an eye as possible, seeking out the pieces that go beyond the current season and that genuinely fit with my aesthetic. While everyone has their own personal style, I do believe I've managed to curate an edit of the best Zara and H&M fashion items that won't date for anyone. Take a look below, and hopefully, you'll find something you love.
The perfect party top you'll bring out year after year.
How gorgeous is this wool jacket?
Velvet Mary Janes are such a great winter shoe choice for when you want to be smart yet comfy.
Red is one of the colours of the season, and this gorgeous midi dress will work hard for you all winter long, whether you pair it with heels for a party or boots for work.
I'm ordering this chunky brown coat ASAP.
Didn't you hear, silver jeans are back again after reigning supreme last year, proving they really do have eternal appeal.
I just love this super cosy grey sweater. Wear with wide-leg trousers and trainers or dress it up with jeans and heeled boots
Practical and chic, all in one.
An ideal layering piece for this colder weather we're experiencing.
Embellished jeans is a trend we can all get behind this season
A blazer you'll love and wear forever.
Knitted dresses are my best friend in this kind of weather when I want to be warm but also look put together.
There's something extra special about this khaki scarf coat.
Velvet wide-leg trousers? I'm sold.
A classic.
Another staple red piece if you're considering investing in the trend this year.
These gorgeous jeans come in sizes 4-22.
It is slightly more expensive than your average high-street knit, but it is so timeless, I think it's worth it.
Puffer season is upon us!
Next Up: The 9 Most Expensive-Looking Pieces on the High Street This Week
This story was originally published at an earlier date and has since been updated.