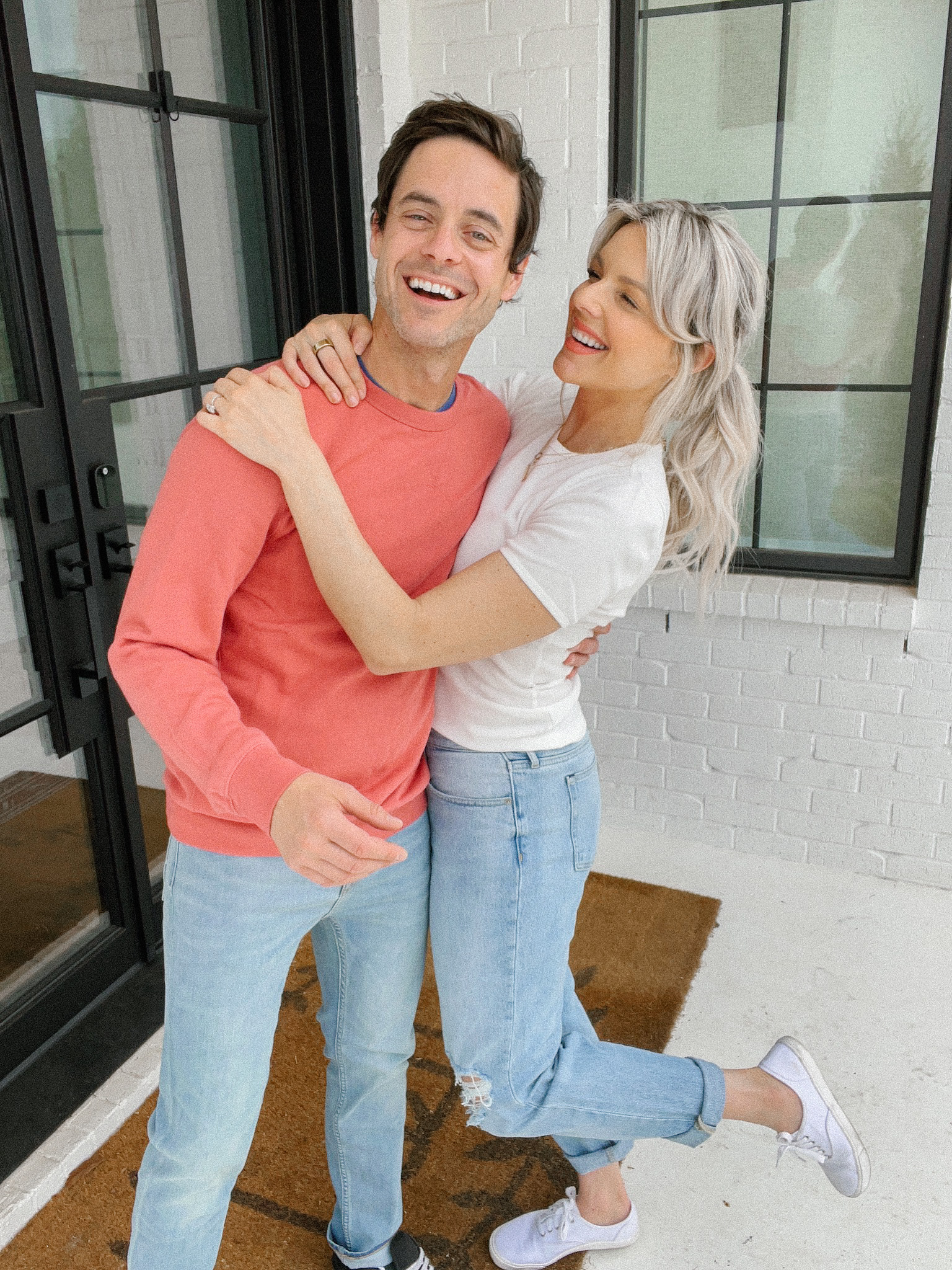 It almost feels weird for me to say happy Affordable Friday this week. Just because it's been a challenging week over here. But I figured since I'm just sitting with sweet Molly while she recovers from her broken arm surgery, I might as well write this blog post while she is resting next to me. Kevin and I took these photos the afternoon before she fell on the monkey bars.
Today's Affordable Friday is a little different because I'm sharing outfits for both him and her! Instead of me trying to pick out clothes for guys, I had Kevin pick out the clothes himself because I feel like he knows what is in style for guys more than I do. It made me giggle because he was blown away at how much he loves what he got. It always makes me happy when I can show people, including my husband, that you don't have to spend a lot to have a great clothes!
All of the items in this blog are from the Free Assembly brand that they carry at Walmart. Their clothing is sustainable, and avoid fertilizers and pesticides. If you want to learn more, I am going to include a snippet from their website at the very bottom of this blog for you!
Great Basics and Denim
These first looks are very basic, but I honestly wanted to start the blog post this way because I feel like basics are the most important part of any wardrobe – I wear basics probably 90% of the time. I'm gonna start with my look. Every time I post about denim, they sell out quickly so if you're looking for a great pair of affordable denim, I have amazing options in this post for you. But this first pair are definitely my favorite! They are the perfect pair of non-skinny jean pants! I know a lot of us struggle to find denim that aren't skinny jeans, but also aren't the typical Mom Jean. I think these are so flattering. Seriously my butt looks amazing. Ha!

1. KEVIN'S TOP | 2. KEVIN'S JEANS | 3. MY RIBBED TOP | 4. MY JEANS
I cuffed them at the bottom, but you don't have to cuff them if you don't want to. I'm wearing a size 8 which is the normal size I get in Walmart jeans. It's about the equivalent of a 29/30. They are only $32, so rush and get them before they sell out because they will.

1. KEVIN'S TOP | 2. KEVIN'S JEANS | 3. MY RIBBED TOP | 4. MY JEANS
My top is just a basic fitted crewneck. I like that it's ribbed and it's got a really cute cut. You cannot beat the price it only $12. It comes in a bunch of colors if white isn't your thing.
Kevin found some great basics too, but with a little pop of color. He told me this pair of denim pants is one of his favorites ever, and to get them for this price is just insane especially for men's clothes. Men's clothes just tend to be more expensive than women's. Then this top he loves so much that he got it in two colors, and he even wants to get more. It's true to size and he's wearing a men's small.

1. KEVIN'S TOP | 2. KEVIN'S JEANS | 3. MY RIBBED TOP | 4. MY JEANS
Blue Faves
Onto the next looks. This is another look that I love love love love love love love. This lightweight sweater is the perfect transition from winter into spring and then cool nights during the summer. I love it because I love a good cozy, basic sweatshirt, but this one just has a little bit of a detail on the sleeve that makes it feminine. It truly is so cute and it's only $13. I'm wearing a size medium, which is my normal size. It comes in XS to XXXL, so I also love that it is size inclusive!

1. TOP | 2. JEANS | 3. SNEAKERS
Here's another pair of denim that you're going to love! I'm not kidding you, this pair of denim and the light wash pair in the last look seriously remind me of a brand of jeans that I used to always wear that were $125+ each. So the fact that these jeans are just over $30 each is so amazing! I cuffed these jeans as well, because that's just how I prefer to wear them, but they actually go all the way down to my ankle if you prefer to wear them like that. Again, they're super flattering in the butt! I'm wearing a size 8, which is my normal size in Walmart jeans, so they're true to size. I think the above jeans are going to sell out first, but these will definitely be the next to go. So snag them fast while you can! And I know they look different int he Walmart pictures, but the jeans I'm am linking are the same as I'm wearing in these pics!
I'll also link my sneakers and all these looks because of the $10 sneakers that I wear all the time. Full transparency, they're not the most comfortable shoes I've ever worn. But they're comfortable enough that I wear them all day at Disneyland. No problem. So I still wear them every day because they feel good, but it's like I feel like I'm walking on a cloud or anything like that.

1. MY TOP | 2. MY JEANS | 3. MY SNEAKERS | 4. KEVIN'S SHIRT | 5. KEVIN'S PANTS
Kevin is also in love with his pants. He says he absolutely loves the slim fit of them and the quality is really good. I could ask him what size they are, but I think guys jeans are different than girls. They're usually pretty straightforward when it comes to the waist size and the length and you kind of just go with what works for you. So I say if you're buying these pants for someone or showing this blog post to your significant other, or another family member have them let you know what size they normally are.
This plaid is really unique because it's like the typical shirt that guys really like to wear, but this one is really soft. It's like a mix between a cotton and a fleece almost. At least that's what it feels like. It's $26. Kevin says it's true to size, and it comes in XS to XXXL.
Cute & Casual
Now on to look three. This one's really basic and a little sporty. Kevin's just wearing a random t-shirt that he's had. But we decided to randomly take these pictures even though we were done with Affordable Friday pictures because he was wearing these joggers and he said they're one of his favorites ever. They have a really nice slim fit and he says they're super comfy and true to size. They also come in XS to XXXL.
When he was wearing them, I happened to be wearing this $34 pair of Walmart jeans. So this is a third pair of Walmart denim in this post, so hopefully you're able to at least snag one pair before they sell out! Then this white tee. I absolutely love the cut of this T-shirt. It's kind of a more boxy shape which I feel like makes it look more expensive even though it's only $10. I have two of these white t-shirts because I love them so much.

1. KEVIN's JOGGERS | 2. MY BOXY TEE | 3. MY JEANS
And then my denim is a good solid pair of non-skinny denim jeans. I know I keep saying that, but it's probably in my top five requests for outfit links. Usually people ask what my favorite white tee is first and then my favorite non-skinny jean is usually a second. Or third.
Ted Lasso Chic
As you can see from this next set of pictures, Kevin and I clearly had some fun taking these. He loves his windbreaker because he said he feels like Ted Lasso! In fact, he started coaching as an assistant coach this year on Riley's t-ball team, so now he's got the gear to go along with the gig! The wind breaker is only $16 and really well-made. As I'm writing this, it is only available in a few sizes, so check if the size you need is available before it's gone! He's wearing an orange long sleeve shirt underneath that's on sale for $13 and the quality is so so so good! Then he's wearing the same denim he was wearing in the first outfit that he said are now one of his favorite pairs of jeans he owns.

1. WINDBREAKER | 2. ORANGE LONGSLEEVE | 3. KEVIN'S JEANS | 4. MY SWEATER | 5. MY JEANS
My pink sweater is on sale for only $19! The cut is amazing and it's so beautiful. Also it has this really pretty texture to it. You truly cannot beat the $19 price tag! The sweater truly is amazing especially for the price. I'm wearing a size medium, which is my normal size. It's also important to note that this would totally look good with a half tuck, but I honestly think it almost looks even better not tucked in. I know a lot of people look for sweaters like that who don't like to half tuck. I personally love a half tuck, but I just wanted to mention that in case you don't.

1. MY SWEATER | 2. MY JEANS
Cute Date Outfits!
First I want to start with this gorgeous dress.

1. KEVIN'S SWEATER | 2. KEVIN'S JEANS | 3. MY DRESS

1. KEVIN'S SWEATER | 2. KEVIN'S JEANS
Then, depending where you are going on your date, you may want to switch to something a little more casual. I feel like men can wear pretty much the same thing anywhere, unless you're going to like a 5-star restaurant or something. So Kevin is in the same look for this but as you can see, I switched into a top and jeans!

1. KEVIN'S SWEATER | 2. KEVIN'S JEANS | 3. MY TOP | 4. MY JEANS
And one final look! This dress is on sale for $27 and is so darling. And then Kevin love this blue top he's wearing.


Sustainable Fashion
Well that's it for me today! I hope you and any men in your life enjoy this blog and these affordable and sustainable pieces. Please let me know your favorites in the comments. Also, as mentioned above, I am going to include a snippet from Free Assembly below!
"We're out to build a new kind of fashion brand. One that's as good-looking as it is affordable,
and is committed to sustainability. One that inspires you to mix, layer and assemble freely.
It's a big ask. But we're ready to do it. And we encourage you to come along with us.
This is Free Assembly. And it's in the making. Available only at Walmart.com and in select
Walmart stores.

What is Sustainable Fashion? Sustainable fashion takes into account the full lifecycle of the product—from the design, sourcing and production processes and looks at everyone and everything being affected by it, from the environment to the workers and communities where it's produced to the consumers who purchase it. Free Assembly is committed to sustainability with responsible sourcing and considered design.

Our denim is made from mostly organic cotton, which avoids fertilizers and pesticides. It is washed using techniques that encourage reduced water usage. Our denim is produced in LEED certified facilities, which encourage energy and resource efficiencies. Our denim factories are also Fair Trade certified, which means they aim to provide safe working conditions and build sustainable livelihoods for workers. It's our way of minimizing our footprint on the earth while maximizing our foothold in fashion."
The post Sustainable Affordable Friday For Him & Her! appeared first on Ali Manno (Fedotowsky).