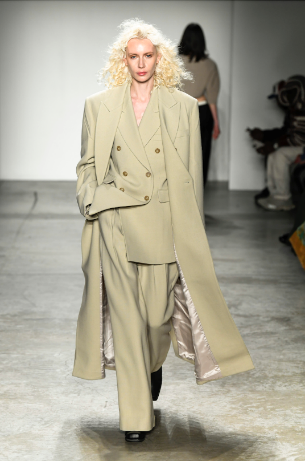 Contributed By Evan Hirsch
This year's New York Fashion Week was a celebration- a resurgence of glitz, glamour, and style as a whole. After a two year pandemic has virtually derailed the fashion industry, costing countless jobs and delaying collections and retail shipments; the fashion calendar is determined to bounce back in a big way. While some designers like Tom Ford were forced to pull out from the CFDA line-up, other brands such as Badgley Mischka and RVNG Couture (who explored shine, feathers, and elegant draped gowns) chose to go for a digital release. Many brands however, laced up their stilettos and rounded up the models and put on full-fledged runway shows and presentations. These live events did not disappoint, showcasing the latest Fall/Winter 2022 collections from established fashion houses, and most notably, from emerging designers.
The overarching theme of this year's New York Fashion Week, was a rejuvenation of the industry as a whole. So many new faces broke through to gain some well-deserved exposure. This was also the first year that the CFDA (Council of Fashion Designers of America) welcomed new creatives as interim members; giving the green light for these fresh artists to showcase their collections and looks in a space that was previously dominated by the heavy hitters of design.
New York Men's Day 
Fashion week kicked off on Friday February 11th with a powerhouse lineup. Two major showcases that dominated the schedule was known as New York Men's Day. This was a two part presentation sponsored by the iconic Perry Ellis that curated the newest talent in the Menswear space. The morning presentation introduced us to William Frederick, A. Potts, Teddy Vonranson, and STAN. William Frederick focused his collection on elevated neutrals keeping wear ability, and ease to the consumer in mind. A. Potts constantly rotated new styles into the room, keeping the viewer on their toes. The Collection featured draped silhouettes, bright colors, and subtle prints, making clear that the future of fashion values comfort and ease of movement. Teddy Vonranson proved through his collection that men should not be afraid of color. His vibrant colored outerwear was a breath of fresh air and the front and center piece that caught my eye was a watercolor striped coat. Finally STAN proved that what is old is new again. The collection featured modern silhouettes made from sourced antique fabrics, some of which dated back to 100 years ago.
The second evening menswear show showcased Nicholas Raefski, Clara Son, Atelier Cillian, and The Academy New York. Raefski captivated the audience with exciting set design and fabulous styling (styled by @styledbyjuless) of intricate paneled colorful looks, giving almost a psychedelic feel. Clara Son blended masculine and feminine energy by incorporating a lot of tulle, ruching, and sheer rich autumnal colored fabrics into her line. She even finished off the line with an interpretive dancers blending art and fashion as one. Atelier Cillian had a dark and villainous flare, incorporating luxurious brocades and wool capes, and sleek top hats into his line. The presentation had me dreaming of being the most chic antagonist in a novel. Finally The Academy opted to present on hangers which allowed the garments to speak for themselves. And when suits bear metals, state fair 4th place ribbons, and bold stripes, the clothes do a lot of speaking!
Ndigo Studio 
Ndigo studio, coming off of one the highest achievements, showcasing a look on the new Sex and the City reboot, showcased their collection in an old fashioned runway show. The overarching theme of the fall winter show was an emphasis on vibrant colors, pleated fabric with just the right amount of movement, high voluminous shoulders, and futuristic shaped cutouts, showing the perfect amount of skin for a night out. The show concluded with the designer's husband handing her a bouquet of flowers, and turning to the audience to do a little happy dance!
Global Fashion Collective   
Global Fashion Collective was another showcase of 3 different collections from new, exciting, and up in coming talent from all over the world. The first collection was NOLO kids, which featured futuristic children's wear. This designer had branding, down to a science, showcasing the name NOLO on the pint sized super models while also drawing the viewer in with color, comfort, and a relaxed fit, so that kids can still be kids! Sanjukta Dutta showcased some amazing hand loomed gowns that had a deep connection to her cultural upbringing. And FromWhere based out of Seoul curated a line of utilitarian sportswear that paired neutral looks with clean lines in a way that screamed both minimalism and chicest woman in the office.
Frederick Anderson 
Fredrick Anderson showed his fifth anniversary collection in the beautiful moonlight studios. Anderson's collection was the dream closet for any woman looking for a night out ensemble. There was a stunning blend of lace, sparkle, embroidery, knitwear, and ruffle, and understated print. What impressed me the most about the collection was the elegance of the fabrics and how tastefully the looks showed skin while also feeling luxurious and powerful. The showstopper of collection was a puffy coat and matching embroidered white pants. The pants had two side panels with sparkling floral embellishments running down the sides. I was convinced that the designer would notice if I snuck away with those pants, but I had to contemplate it because of how stunning they were! Frederick Anderson understands both inner and outer beauty and truly makes sure his models shine when they enter a room with both glamour and confidence!
AKNVAS 
Valentine's Day was truly a love letter to Christian Juul Nielsen's new brand AKNVAS. Many know him as the creative director of the iconic Hervé Leger, known for the bandage dress; but he truly wooed those who attended his new brand's presentation at Spring Studio's sunken living room. The collection which is pretty much gender neutral featured bright neon colors layered together, balanced by earth toned staples. Where the collection scales back in loud prints and complicated silhouettes, it makes up in fine details, beautifully crafted knitwear patterns, and minimalist details of rushing and sleek fringe. Christian himself channels what he would want to wear, looking both cool and chic while also being comfortable and easy to style. AKNVAS will also make its retail debut in the near future and it is certainly a brand to watch!
Greedilous by Tilda
Greedilous, a Korean based clothing brand, made their NYFW debut with a technological splash. The brand choose to embrace modern advancements in artificial intelligence by showcasing LG's new avatar Tilda, who had a part in creating the collection. The show in Spring Studio's iconic gallery featured something I have never personally seen before: futuristic florals! All of the looks centered on layering on top of uniform models with bright teal short wigs. The models almost resembled fashion forward robots, sporting looks that blended both a girly adorability with soft ruffles, contrasted with oversized Avant Garde jackets and sweaters, draped overcoats, and bold cutoff scalloped skirts. While my words paint a picture, the collection needs to be visualized, as it is truly a feast for the eyes!
Melke 
Melke designed by up and coming fashion star, Emma Gage is providing for an inclusive approach to seasonal collections. Her showcase at Veranda in SoHo produced by the powerhouse, Agentry PR, blended both live models and whimsical looks on hangers. The collection was inspired by a recent trip Gage took and drew inspiration from the nature she saw. The collection itself was both completely gender neutral and sustainable. The overarching theme of fun embroideries such as sheep and fish motifs on sleek knitwear was just the contrast we need! The display blended lighthearted troupes with androgynous components to make a line that can be loved by all. I particularly loved the garments with what resembled embellished fishing tackles and crocheted leaves and ropes. Melke is forging the path for a way out of traditional gender separated clothing and a leap towards simply having fun with our wardrobe.
July Li 
Finally, recent Parsons Graduate July Li, introduced her collection in the lovely Petricore Studio showroom. The mostly knitwear pieces featured creative cutouts, structured Avant Garde cuffs, and greyscale colors with a pop of neon. July is clearly an up and coming designer who will be one to watch in the knitwear space. She is diverging from the idea that knits should be clean cut and creating edgy almost punk tattered knit garments revealing a seductive amount of skin. The showstopper in this collection was a full knit handbag with tube shaped handles. The opening of the bag is fastened just like the neckline of a sweater and it truly was one of the most unique pieces that I have seen all week!
If one thing is quite clear after this year's Fall/Winter 2022 New York Fashion Week, it is that the future of fashion is very bright! It is refreshing to see new young talent making their dreams come true on runways and in showrooms all across the city. The pandemic extinguished the creative fires behind a lot of new talent and young designers. It is clear that this time has long passed, as genius is bursting at the seams with fashion week uplifting and encouraging our future!
The post Live From the Runway- Review of NYFW Shows appeared first on FashioNectar.